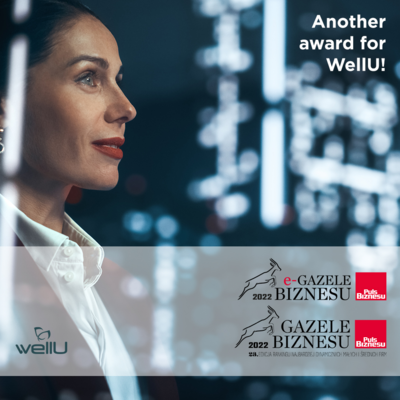 WellU once again in the Business Gazelles ranking
Transparency and development dynamics - this should characterize a solid and promising business project. One with which it is worth establishing cooperation.
We are pleased to announce that WellU belongs to the elite of small and medium-sized enterprises that are annually recognized in the Business Gazelles and e-Business Gazelles rankings, created by the "Puls Biznesu" publishing house. Our Company has already been included in these classifications three times.
Business Gazelles 2022
WellU was again included in the Business Gazelles 2022 ranking, which recognizes the most prosperous small and medium-sized enterprises in Poland. This means that, for the third year in a row, our Company has not slowed down and has taken such actions that have opened new perspectives, enabling us to continue our development.
The Business Gazelles ranking has been organized annually since 2000 by the "Puls Biznesu" publishing house. Its purpose is to distinguish dynamically developing and at the same time transparent small and medium-sized Polish companies.Being the oldest ranking of this kind in Poland, Business Gazelles are considered the most reliable and most popular classification of companies in the SME sector. The ranking is based on objective criteria such as financial performance. Participation in it is free of charge.
e-Gazelles of Business 2022
Another success is for WellU to once again be recognized in the e-Gazelles of Business ranking. This time our Company made it to the top ten, taking 8th place out of 197 companies.
The e-Business-Gazelles ranking has been published since 2014 by the "Puls Biznesu" publishing house. It brings together the most dynamically developing small and medium e-commerce companies.
Return to list