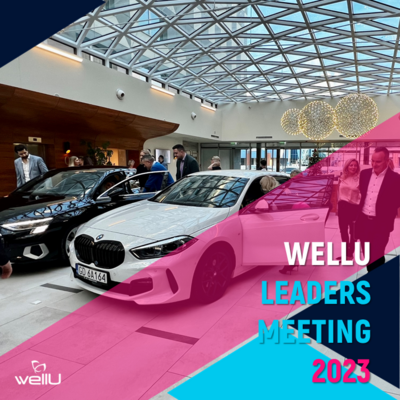 WellU Leaders Meeting 2023 - summit meeting - event report
The beginning of the year is the moment to set short- and long-term goals and key undertakings for the coming twelve months, as well as to take stock of the activities of the past 2022. This was precisely the main objective of the WellU Leader Meeting 2023, held on 06-07.01 at the DoubleTree by Hilton Hotel & Convention Center in Krakow.
The cyclical elite meeting was attended by 85 strategic WellU Leaders from across Europe, who had previously met the requirements of a special qualification.
A common right direction for WellU change
The Top Leaders Council is a meeting that provides a platform for discussion and exchange of ideas to contribute to the development of the right WellU business strategy for 2023.

Watch a short video of the event with Rafal Pudyszak, WellU Managing Director, and Tomasz Jagielski, WellU CEO (in Polish)
WellU Managing Director Rafal Pudyszak, in his speech, referred to the blue ocean strategy based on building our own business space, which WellU has been pursuing for a long time.
"We do not intend to fight with anyone, to compete for a certain good. We want to build our own business space, and we invite you to do so."
- emphasized the Director.
Top Leaders were presented with proposals for changes that WellU planned to implement in 2023. They were discussed at the forum together with the Top Leaders, which made it possible to learn about each other's opinions and develop a common position.
Of these, the most important is the change of the marketing plan to bring more opportunities and benefits to Business Partners. It is much simpler to communicate, while making it easier to obtain and maintain ranks. What's more, its implementation is expected to enable faster and more dynamic development of business groups, and further recognize group leaders in the form of higher compensation.
In addition, the new rules for online sales of WellU products, the "Rising Star" special program coming into effect at the end of January, as well as the next edition of the WellU Multicompetition, the grand prize of which is to be a trip to Madeira, were discussed more extensively.
The session ended with a joint discussion, in which each Participant had the opportunity to speak and respond to the Board's proposals, as well as propose their own solutions. Some of them have already been implemented.