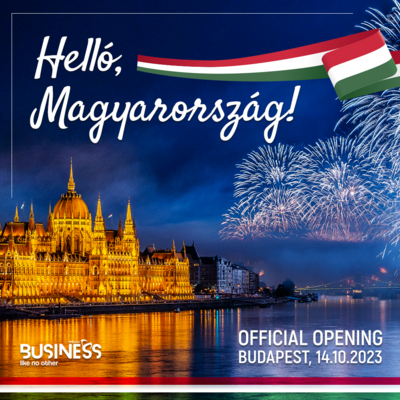 WellU in Hungary - official opening of the Hungarian market 14.10
WellU is thriving in Central European countries. Poland, the Czech Republic, Slovakia... Now it's time for Hungary! We are pleased to announce that as of today, WellU has officially started its activities in another European country! The grand opening of the Hungarian market is just underway at Budapest's Continental Hotel.
Continuous growth is one of the things we value at WellU, which is why we are so pleased to start official operations in yet another European market. At the Continental Hotel in Budapest, WellU CEO Rafal Pudyszak has just officially opened WellU's next destination - the Hungarian market.
A rich program, full of merit and practical information about the Company, brands, business with WellU, awaits the participants of the event. Live demonstrations of Larens Colour makeup and Larens Professional treatments and salon care, the opportunity to learn more about our Larens cosmeceuticals, interesting speeches by leading WellU Business Partners connected with the Czech and Slovak markets, rich in useful information.
To keep up to date with events from across the Balaton, you should follow our social media >>>
Our Hungarian WellU Business Partners and Supporters have shown their enthusiasm and willingness to work even before the official start of our Business Like No Other in Hungary, so we are confident that the official opening of the market will be an additional motivation to take on more challenges.
Every new WellU market is a success - we are extremely pleased that our brands are being appreciated in a wider and wider international circle. A new market also means new opportunities. We believe this will also be the case this time, and you will take full advantage of the potential of the Hungarian market.
We are not slowing down and we are developing further!
Return to list