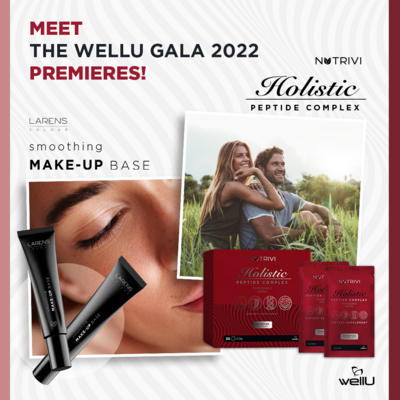 Welcome the premieres of the WellU Gala 2022
Discover the innovations that sped up the heartbeat of Gala 2022 attendees! After the celebratory premieres organised at the event, now you can experience the results of months of work by the WellU design team up close.
Permanent make-up: Larens Colour Smoothing Make-up Base
The LARENS COLOUR cosmetics line, which was rewarded with the "Innovation of the LNE Congress 2021" award, now has a new dimension of permanence! Larens Colour Smoothing Make-up Base, a smoothing make-up base with a light, creamy texture, significantly extends the durability of make-up. Make-up using the new Larens base lasts more than 12 hours on normal and dry skin. The product perfectly smooths the surface of the skin, eliminating imperfections and enlarged pores and creating a pleasant satin film, ideal for the next make-up steps: concealer and primer.
●
Extremely pleasant to apply, seamless in co-operation with other colour and skincare cosmetics, efficient.
●
Gives a refreshing, optically unified and smooth complexion.
●
Free of phenoxyethanol, parabens, nylon, PVP, aluminium and microplastics.
●
Also to be used solo, over skincare cream, without primer, concealer or BB cream - it will become the secret to a radiant, well-groomed and natural-looking complexion without make-up.
On a molecular level: the new peptide drink in sachets, Holistic Peptide Complex
A great sense of wellbeing, resistance to infection and vitality and health are signs of health, and therefore of the body's physical and mental balance. The Nutrivi brand presents a Chinese medicine-inspired dietary supplement - Holistic Peptide Complex Powdered Drink - to restore this balance. Astaxanthin, one of the most potent antioxidants, combined with Reishi mushrooms, Maitake, Agaricus, freeze-dried fish collagen peptides, blueberry extract, turmeric and piperine will strengthen the body and its immunity by regulating cell metabolism.
●
Its purpose is to support the proper functioning of the immune system, nullifying the damaging effects of free radicals and therefore stimulating the immunity of the entire body as a preventive measure;
●
The product is supplemented with biologically active forms of ingredients with record antioxidant power and high absorption capacity;
●
Very high concentration of active substances and antioxidants - one sachet contains approx. 7-9 capsules;
●
Comprehensive, 9-ingredient; designed to complement other products in the WellU range (we recommend alternating use with Physio Sport Peptide Complex every other day);
Return to list