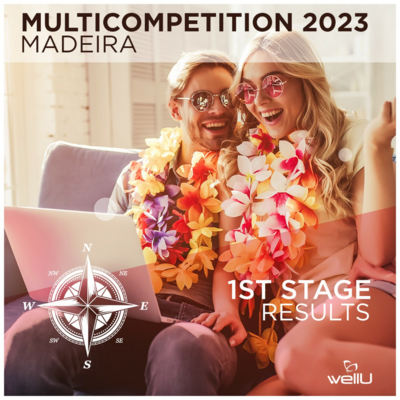 We know the winners of the first stage of our Multicontest Madeira 2023!
We know the winners of the first stage of our Multicontest Madeira 2023. We already know who will be awarded with Vouchers and who receives a guaranteed consolation prize.
That's impressive (and hopefully inspiring) - we completed the first stage with 15 people reaching 30 (and more) points and winning the Voucher by doing so! It seems that we can expect some interesting rivalry!
1.
wellnesspaprestige 55 P
2.

macamatejkova 49 P
3.

i-vita 49 P
4.

novaclinic 43 P
5.

tvarovajoga 39 P
6.

malgorzatamlynska 33 P
7.

monikaelmasry

32 P
8.

salonpieknecialo 32 P
9.

nikolkabella 32 P
10.

kozakmagdalena 31 P
11.

edytazielinska 31 P
12.

kasiaszymoniak 30 P
13.

leadingup 30 P
14.

aga-wnuk 30 P
15.

1helahanikova 30 P

In addition to the top prizes, that will be given to the winners, we have presented as many as 159 guaranteed prizes for earning at least 10-29 points, which means that up to 159 people will be enjoying our Hydro balance Cream.
Full classification of contestants
>>>HERE<<<
We give our best regards to the main prize-winners, but also strongly applaud all those who fought valiantly for points and landed on lower positions, receiving consolidation prizes! 10 points was enough to get a prize!
In the meantime, we are already at the halfway point of the 2nd stage of the Madeira 2023 Multicompetition. Only until the end of March you can compete for more Vouchers, guaranteed prizes and, most importantly, points, which in the overall ranking will lead the winners straight to receive a ticket to the land of eternal spring.
Return to list