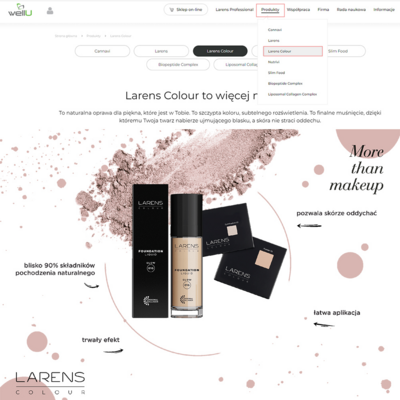 The new subpage of Larens Colour
When it comes to novelty colour cosmetics, the Larens Colour brand has indisputably taken its place at the forefront; it receives awards, appears in industry magazines, sponsors trade fairs, and gains new ambassadors and followers throughout Europe and beyond. Therefore, we have come to the conclusion that it's time to give it more space at wellu.eu. From now on, you will take a closer look at Larens Colour – not only thanks to webinars, catalogues and online shopping. The line has received a separate subpage in the tab "Products" at https://wellu.eu/
What you'll find on the subpage:
A general description of the whole line – the benefits and unique features worth presenting to the customers.
A mention of the prestigious innovation award received by Larens Colour at the 2021 LNE – the most significant Polish cosmetics congress and fair.
An overview of cosmetics and accessories offered by the line.
An online catalogue that can be downloaded or browsed directly on the subpage.
The new subpage of Larens Colour encourages clients and potential business partners to acquaint themselves with its online content.
See the subpage: https://wellu.eu/pages/larens-colour,261.html

Return to list