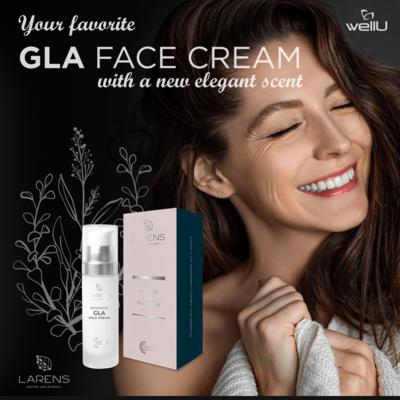 The new GLA Face Cream fragrance
5 things about GLA Face Cream you already love + one extra you will love it even more.
1. Extremely rich composition: as many as 6 nourishing oils, including borage oil, full with valuable gamma-linolenic acid #GLAcomplex.
2. The two strongest humectants: fish collagen peptides and hyaluronic acid - both contained in liposomes, for a more intense moisturizing and rejuvenating effect, extended over time.
3. 99.6% ingredients of natural origin: only natural preservatives, emollients and additional ingredients, such as carrageenan - a "natural silicone", that is safe for your skin and shouldn't give you any concerns.
4. Effects, effects, effects - strong support for mature skin, strengthening and moisturizing, giving it youthful density, healthy color and noticeable elasticity and resistance to external factors.
5. Creamy, rich consistency, also ideal under make-up, pleasant to apply (perfect for face self-massage!).
+6. New fragrance composition - from now on, the list of delights is growing by a category that moves the senses. It is a completely new, subtly served, sophisticated fragrance, reminiscent of a modern, self-aware woman.
Be sure to check the new aroma of GLA Face Cream on your skin.
*Currently, product testers are still available in the previous fragrance composition while stocks last.
Return to list