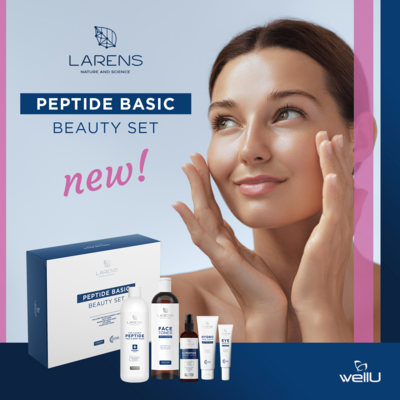 The most awaited premiere of this autumn! Peptide set for the start to the Larens adventure
Those who were with us at September's WellU Gala already know, those who missed the event – will find out now. The hottest premiere of this autumn from the Larens brand – the Peptide Basic Beauty Set – from now on available at wellu.eu
What could be better than a Larens cosmetic preparation? 5 preparations! And it's all put together in one perfect set, which will provide your skin with a complete basic skincare featuring the iconic fish collagen peptides.
Introducing the Peptide Basic Beauty Set – a set of five Larens base products for daily care for all skin types.
There are 5 preparations from Larens: two best-sellers and three new additions that were developed with this set in mind. Together, they form the basic peptide care, 5 simple steps to well cared for, beautiful skin. Would you like to know them?
Step 1. Collagen Peptide Face & Body Wash 210 ml – a peptide-mineral gel that cleanses the skin, delivering the first shot of skincare.
Step 2. Face Toner Peptide Basic 250 ml – a refreshing toner that will restore the skin's natural pH because toning is a must-have for your skin.
Step 3. Biopeptide Serum Spray 50 ml – our iconic product, master of multifunctionality, in practice a reliable promoter of the next steps of Larens care.
Step 4. Eye Serum Peptide Basic 15 ml – a creamy serum that gently cares for the sensitive skin around the eyes.
Step 5. Hydro Face Cream Peptide Basic 40 ml – high-end hydration, a deeply hydrating face cream with soothing and anti-ageing properties.
A daily encounter with these five will provide everything what absolutely every skin needs: cleansing, rebalancing, quality hydration. And a regenerating and energising peptide shot? That's extra value you only get with the Larens brand!
You'll love the white and navy boxes from the Peptide Basic Beauty Set not only for the beauty benefits. Be sure to check out why this product is a real business gamechanger for WellU Business Partners:
1. Brilliant price. Only PLN 285,00 / 67,15 EUR / 1 643 CZK / 69,52 GBP / 24 845 HUF for five complete Larens cosmetics, meeting the needs of any skin, packaged in a sleek and stylish box with a practical leaflet.
2. A thrillingly favourable number of points. One set is as many as 25 P! You just need two of them to ensure activity in the simplest and fastest way!
3. Your business mega booster – you get 30% more points for less money. What does this mean in practice? You get more commission for less turnover!
4. Recruitment tool. These two sets can be purchased as a first order. Take advantage of the 23% discount on the Startbox – give yourself an even cheaper start to the WellU adventure!
5. Your best choice for the first encounter with Larens. Not sure what beauty product would be the best brand ambassador for someone who doesn't know the brand? By offering the Peptide Basic Beauty Set to a new customer, you have a strong hand of 5 quality products whose gentle formulas will be loved by all types of skin. It is a complete set for everyday base care and includes the iconic Biopeptide Serum Spray.
6. Presentation idea. Take the Peptide Basic Beauty Set to meet potential clients and offer to perform the treatment. Watch as with each of the five steps your clients fall deeper in love with Larens peptide formulations!
Is there something you want to add to this list? We have no doubt that the Peptide Basic Beauty Set will ignite your business potential.
*Orders placed since the launch will be fulfilled starting Tuesday, October 31 from the morning hours.
**Products available in the set are not sold separately
Return to list