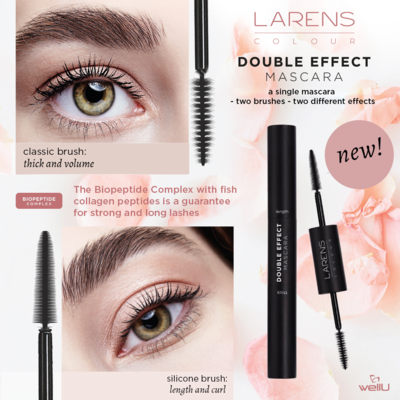 Start of the Carnival, the start of Double Effect Mascara sales!
Thickening, elongate, or evening look? You choose. Combine effects and play with them according to your mood and styling during the carnival and beyond! Meet Double Effect Mascara, a Larens Colour mascara created out of love for colourful beauty products.
One mascara - two brushes and two masses with different properties,
for two spectacular effects.
Double Effect Mascara packaging is divided into two containers, which, in addition to the creamy emulsion in a shade of deep black, hide two different brushes:
• dense, with classic bristles - it's a three-dimensional thickening and volumizing of eyelashes;
• silicone – lengthens lashes, lifts and curls.
The double benefit is not only the duplication of effects but also the dual action of the mascara: beautifying and nurturing eyelashes.
In keeping with the "More than Makeup" brand's slogan, nurturing took a position on par with makeup effects in creating the mascara. The formulation included the iconic Biopeptide Complex, a cocktail of fish collagen peptides known for their hair-strengthening and growth-stimulating effects.

The creamy emulsion of deep black colour is enriched with nourishing extracts from soy and wheat seeds and Baikal Thyroid, rice wax and vegetable Carnauba wax - this one, in addition to elasticity, gives velvety smoothness to the eyelashes.

Return to list