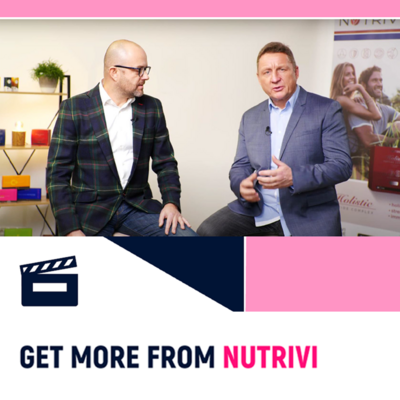 Premiere of new films in the series "Get More From Nutrivi"
What are the uniqueness and products of the Nutrivi brand based on? You will find the answer to this and many other questions related to our nutritional supplements in the latest expert video series, "Get More From Nutrivi".
In a new series, Nutrivi dietary supplements are discussed in more detail by the originator and founder of WellU, Rafal Flavio Tomczak, and nutritionist, WellU Scientific Council member and researcher at the Institute of Clinical and Experimental Medicine, RNDr Pavel Suchanek.
What were the assumptions behind the cycle?
•
Outline simply and briefly the market advantage of Nutrivi's nutritional supplements,
•
Tell a clear story about the uniqueness of individual Nutrivi products,
•
Provide arguments that will be relevant to the customer.
The films were prepared in Polish, Czech and English.
1) "About the Nutrivi brand"
In the first premiere episode under the title "Professionals about peptides", you will find out why Nutrivi dietary supplements stand out from the other thousands of supplement brands in European markets.
2) "Get More from Vitamin C+"
In the second episode, RNDr. Pavel Suchánek talks about a natural complex - Vitamin C+ - consisting of three sources of natural vitamin C - rosehip, sea buckthorn and acerola - as well as silicon from bamboo and a flavone fraction from orange peels, standardised to 90% diosmin and 10% hesperidin.
3) "Get More from GetUP+"
In the third episode, you will find out whether we should consider the GetUP+ dietary supplement as a healthier 'replacement' for coffee or whether it has other, more important functions that are good to know about.
In the fourth episode, our experts will present the multifunctional dietary supplement ReviColl MAX in more detail.

5) "Holistic Peptide Complex"
Episode five is devoted to Holistic Peptide Complex, which, thanks to a selected composition of active ingredients, is to support the proper functioning of the immune system.
Proteolytic enzymes, and hence Enzyme Complex, is the topic of the sixth episode of our series.

We kindly invite you to watch!
Return to list