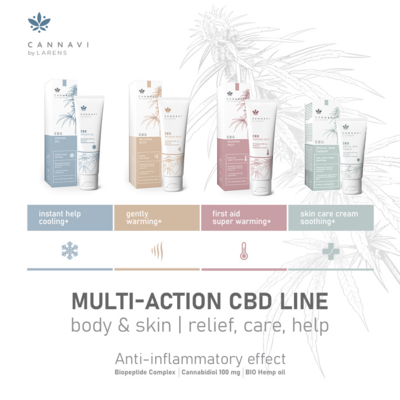 Premier of Cannavi by Larens from CBD line!
The customers' search for natural ingredients in cosmetics, as well as the dynamically growing cannabis market, encouraged global brands to invest in research into the properties of CBD application on the skin. The results of research works and the experience of cosmetologists show that Cannabis sativa extracts in cosmetics:
thanks to their antioxidant qualities improve condition of the skin,
regulate the production of sebum,
regulate the amount of collagen and elastin in the skin,
they have ani-inflammatory and analgesic qualities.
Research suggests that CBD can bring relief while experiencing inflammatory condition. Localised application CBD products, like creams, ointments and gels can relieve pain and can help in such ailments like neuropathy and arthritis.
The Larens brand, fascinated by the potential of topical CBD application, has combined the iconic Biopeptide Complex, BIO hemp oil and 100 mg of CBD (cannabidiol) in the new line of Cannavi cosmetics by Larens for even better, longer-lasting and faster results. We have prepared four cosmetics for you, each with a slightly different range of activity; these are preparations that act like first aid for muscles, joints and skin.
Meet the new Cannavi by Larens products:
Revitalising and cooling gel provides relief for the tired and tense muscles in matter of seconds.
Gel lotion that has mild warming, toning and relaxing effects.
Gel that has strong warming effects, applicable locally.
Gel cream designed for skin that requires special treatment.
Return to list