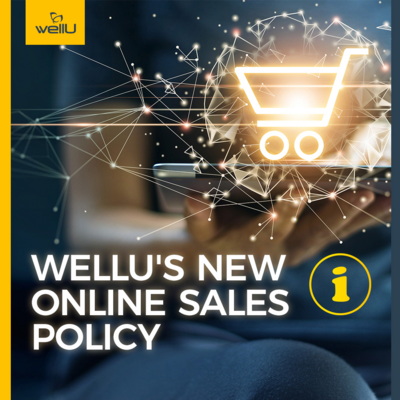 The company's business policy for Sales of products on portals auctions and marketplace
In accordance with the company's business policy, WellU does not allow preparations of the Larens, Larens Colour, Nutrivi, Cannavi, Cannavi by Nutrivi, Cannavi by Larens, Dental, and in particular preparations intended for professionals: Larens Professional were sold on auction portals, multisales platforms and marketplace channels, such as Allegro, Amazon, Akuro, for example, eBay, Empik, Ceneo and the like.
According to the specific rules of cooperation described in the Terms and Conditions of Cooperation, conducting such activity directly violates it, and indirectly may work to the detriment of WellU, as well as the other Business Partners - see §6 Websites, stores and online auctions in the document "Regulations of Cooperation".
We are committed to presenting the products of WellU brands in an appropriate environment, not where the the only determinant of product quality is price. We want to maintain an appropriate image of our preparations and to provide customers with high quality service every time. The effectiveness of many WellU brand products depends on proper use and combination with other preparations, therefore, we strongly encourage you to purchase through the wellu.eu website (where we have control over the published advertising content and information on the proper use of the product, or directly from the company's business partners.
We ask that customers be made aware that when purchasing a product over the Internet outside the wellu.eu website, especially on an auction portal from an unverified seller, the customer is purchasing a product from an unknown source, which means that:
- seller is knowingly acting in violation of WellU's terms and conditions of cooperation, so the company may terminate such a seller's support;
- is not sure how the products it finally applies to its skin are stored or consumes. This is especially relevant for products with fragile peptides of fish collagen;
- does not know what quality of service the vendor offers. When buying a product from Businesspartner or through the wellu.eu website using an affiliate link, the customer can use the Customer Service, from the HelpDesk system to ask a question, and even, in justified cases, from a cosmetic consultation. The product complaint process will also go much faster;
- does not have access to promotions organized by the company;
- is not sure if the product ordered is of full quality;
- does not know if we are purchasing an original product.
We recommend purchasing through affiliate links directly from wellu.eu stores and Business Partners cooperating with WellU.
Return to list