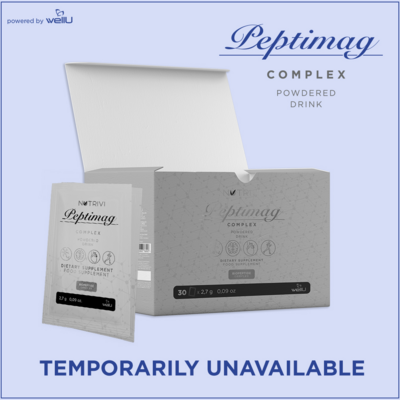 Peptimag Complex - interruption in product availability
This year marks a particularly hot beginning of June - and not only because of the fabulous weather. The atmosphere was heated up by our new Nutrivi diet supplement, Peptimag Complex. Already on the first day of sale it achieved huge, magnetic success. In less than 24 hours after the launch, you purchased over 2,000 packages of Nutrivi's brand new diet supplement.
When will Peptimag Complex be available again?
As we observe your orders we can see that the formulation has become your shopping "must have". Ever-rising sales indicators caused the immediate launch of production processes. Still, an interruption in product availability cannot be avoided. Based on forecasts in delivery of non-standard raw ingredients for the product and other process components, we initially expect Peptimag Complex to be available again mid-September.
New batch, new flavour!
The values of WellU brands encompass constant improvement of cosmetics and diet supplements. An interruption in availability is a moment to implement product lifting based on the conclusions of our strategic leaders. What will change? The new batch of the product will be significantly less sweet than the previous one. Apart from flavour, there's nothing else we're going to change - according to your reviews, product composition is great and it enjoys great interest from Customers.
Return to list