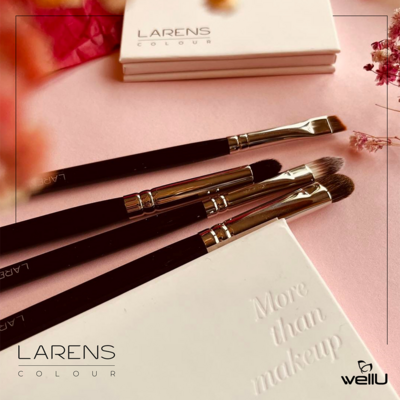 Meet 4 fantastic new Larens Colour brushes, created for special tasks
Larens Colour Blusher, a blusher in two vibrant colours, you can apply it over clear Lip Balm, creating gorgeous colours on your lips. Wet-applied eyebrow shadow will create epic, natural lines. But... Larens Colour multifunctional cosmetics require special tools. Here they are!
Concealer Brush
A precise brush with firmly compacted synthetic bristles. The size of the head and the flexibility of the bristles are ideal for applying concealer, retouching imperfections. Optimal contouring of the bristle line will also work well for lip makeup or modeling cut-offs.
Function: concealer application, lip makeup, modeling cut-offs;
Fluff Brush
A medium-sized brush made of natural bristles. Precise and multipurpose, ideal for eyeshadow application. It will work well as a blending tool, blending, applying shadow at the lash line.
Function: eye makeup, applying and blending eyeshadow;
Pencil Brush
A small brush made of natural bristles formed into a ball shape. The small size and round head of this brush is the key to precision, so essential when applying shadow, highlighting the color of the lower eyelid or blurring the eyeliner along the lash line.
Function: upper and lower eyelid makeup, applying shadows, precise finishing of eye makeup;

Eyeliner Brush
A small brush with slanted synthetic bristles. A master of precision and detail. Created for highlighting or creating eyebrow lines. Optimally flexible, perfect for drawing eyeliner or shadow lines above the lash line.
Function: eyebrow makeup, drawing eyeliner lines, precise finishing of eye makeup;
Return to list