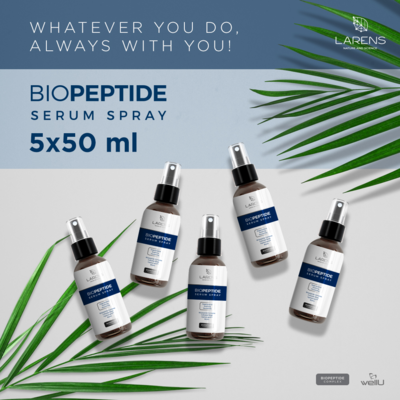 Limited Biopeptide Serum Spray 50 ml x 5 at a great price!
As of today, you can order in our shop the package of 5 units of Biopeptide Serum Spray (50ml) for the price of one Biopeptide Serum Spray 250 ml! This iconic product from Larens has the same capacity, the price is identical*, but with much more possibilities!
The mini version of Biopeptide Serum Spray fits in a luggage, a purse or a sports bags. But you already know it. Our offer is: buy it and share with others!
Peptide spray is one of the most popular product from our offer, so it will be good as Larens' ambassador,
as a product's sample
. This mini version of peptide serum can be given with '100 uses' catalog and its business card to anyone, who will appreciate its multifunctionality.
Attention! This offer is limited in time, only for confident Business Partners. It is worthy to seize the opportunity as soon as possible.

*The product is being sold without paper box or make-up bag. The Biopeptide Serum Spray (50 ml) bootles will be packed loose, without any additional packaging.
Return to list