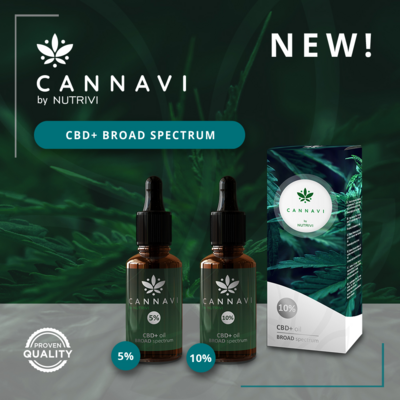 Launch of new Cannavi oils by Nutrivi
If you are looking for a holistic way to improve your immunity, fitness, and mood, try out CBD, which naturally restores your body the state of equilibrium. Cannavi by Nutrivi CBD+ broad spectrum 5% and 10% oils join the well-known line of Cannavi by Nutrivi CBD+ full spectrum 5% and 10%.
Cannavi by Nutrivi CBD+ broad spectrum – new oils: 5%, 10%
For customers who wish to take full advantage of the relaxing potential of CBD and terpenes, are seeking a way to reduce stress levels and improve mood, we have prepared CBD+ broad spectrum (a wide spectrum of cannabinoids) oils at an affordable price.
Broad spectrum oils available on the market are products from which traces of THC are removed along with – depending on the extraction method – flavonoids or terpenes, leaving a broad spectrum of cannabinoids accompanying CBD.
The Nutrivi brand has opted for a unique solution here. The CBD+ broad spectrum oil contains an isolated, pure CBD molecule (99%) enriched by the addition of a natural full spectrum extract and terpenes, added to the isolate in a naturally occurring amount.
What is unique here is the combination of CBD isolate with terpenes and a natural extract of the highest quality. Thanks to this, our oil preserves not only a wide spectrum of cannabinoids but also valuable terpenes.
The carrier of cannabinoids and terpenes is BIO hemp oil with a high content of omega-3 and omega-6 unsaturated fatty acids in the ideal ratio: 1:3.
CBD+ Cannavi by Nutrivi broad spectrum oils are available in concentrations of 5%, 10%.
What distinguishes Cannavi by Nutrivi CBD+ broad spectrum oils?
the level of effectiveness higher than isolates, synthetic CBD, and broad spectrum available on the market,
perfect price-quality ratio,
products of the highest quality for everyday use.
*Soon, 20% CBD+ oils will join the Cannavi by Nutrivi CBD + full spectrum and broad spectrum line.
A video about Cannavi by Nutrivi
Are you interested in using CBD and cannabinoids for supplementation? Do you want to know what to consider when choosing CBD oil for yourself? Watch a 30-minute video – learn about the Cannavi brand philosophy and find out what makes it stand out among other brands on the market.
Return to list