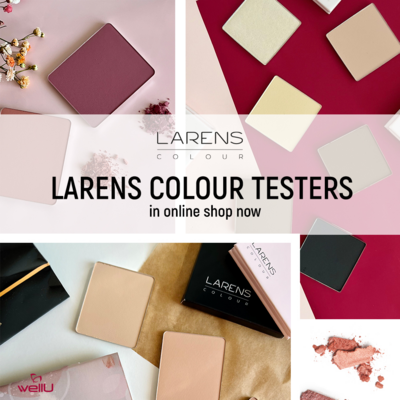 Larens Colour pressed cosmetics testers now on sale!
Wondering what makeup effects Larens Colour pressed prodcuts bring? Are you looking for the perfect bronzer, blush or eyeshadow for your makeup looks? Or maybe you want to present cosmetics to your clients? Testers of Larens Colour pressed products available on sale from today will help you!
The search for "that right" makeup product can be quite a challenge. We realize this, that's why we come to your aid - from today, ten tester packs of Larens Colour brand pressed color products are waiting for you in our online store. In them you will find samples of powders, bronzers, blushes and eye shadows, which you will be able to test and see if this is THE product.
What's more, the tester packages are perfect for presentations, meetings, trade fairs and other events - thanks to them, your customers will also get the opportunity to test your products on their own skin.
Among the offer of testers you will find:
7 types of packages with four testers of color pressed cosmetics
2 types of packages containing five testers of colorful pressed cosmetics
1 package type containing as many as 17 testers of colorful pressed cosmetics
All available packages contain full-priced testers of Larens Colour cosmetics (expiration date: 11.2023).
Order, test and find your favorite product from Larens Colour!
Return to list