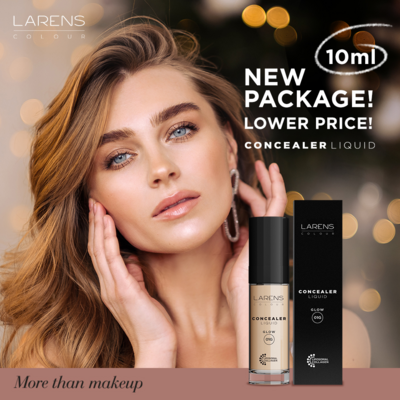 Larens Colour liquid concealers in a new size
Dear Clients and Business Partners! Starting today, our trustworthy liquid concealer in matt and glow finishes will gradually change their containers from a 20 ml bottle to a smaller and more practical one.
The new 10 ml concealer bottles will gradually launch starting today. The new containers will replace the old 20 ml bottles.
The new container enables easier product application and prevents it from expiring before being finished. Smaller container means a lower price – the price drops along with the products' size reduction.
PLEASE NOTE! The new 10 ml concealer size will be gradually launched depending on the stock levels of the previous size.
The first concealer to be launched in the new size is Larens Colour Liquid Concealer Matt 02 M.
We will keep you updated on further changes.
Enjoy your shopping!
Return to list