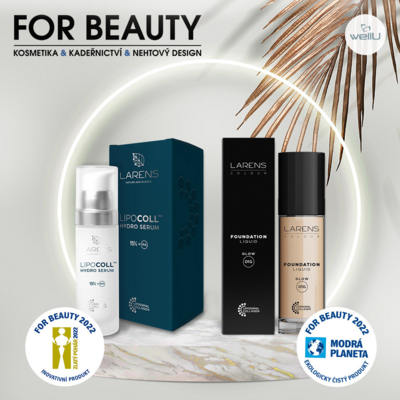 Larens brands awarded twice at the FOR BEAUTY 2022 fair in Prague !
The international fair "FOR BEAUTY" took place in Prague on April 8-9. This recurring event is a communication and information platform for the beauty industry, offering exhibiting companies an opportunity to present themselves in front of a professional audience. Its visitors and special guests will find comprehensive information about the latest products and trends in the beauty industry.
As you already know, Larens and Larens Colour brands received two exclusive awards at the "FOR BEAUTY" 2022 fair!
Modrá planeta award for Larens Colour Liquid Foundation GLOW!
Larens Colour Liquid Foundation GLOW has won the prestigious Modrá Planeta 2022 award. Each and every product competing in this category must contain high quality raw materials and has to be free of synthetic fragrances, preservatives, dyes and chemical UV filters. Moreover, their packaging must allow for environmentally friendly waste disposal.
Zlatý pohár award for LipoColl HA Hydro Serum!
This prize is given to unique and innovative products exhibited at the FOR BEAUTY fair. This year it was awarded to the extraordinary LipoColl HA Hydro serum - the only serum on the market that contains collagen and hyaluronic acid in liposomal form - a combination of the most potent humectants found in nature, whose form enables it to reach the deepest layers of skin.
We are immensely proud of these accolades, especially as this is the first official award won by the sensational LipoColl HA Hydro Serum. We invite you to share this information with your customers and WellU brands supporters!
Return to list