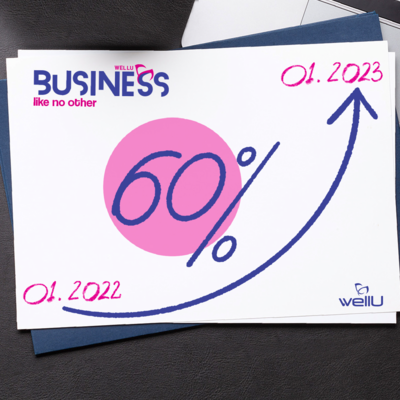 Business like no other! January 2023 - 60% increase in turnover, 4-fold increase in sales of selected products
We often say that the heart of our business and its engine are the products. Our engine is the dream of every builder; it has been the most powerful tool for creating business since the company's inception WellU business. After strengthening the design of the business vehicle itself, WellU's turnover - comparing January 2022 to January 2023 - increased by as much as 60%.
We are constantly conducting demand analyses. What is the result of them? We observe that sales of certain WellU products have increased and continue to increase much more rapidly than 60%.
Collagen Peptide Face & Body Wash: 4-fold increase!
One of the products on which unexpected growth is evident is Collagen Peptide Face & Body Wash - a peptide gel face and body wash. This cosmetic is being purchased in quantities 4 times greater than its previous version, comparing January 2022 to January 2023. We were not prepared for such a gigantic boom for this product, but we did not let ourselves be surprised. First, we doubled production, and at the end of February our production facility will deliver a much larger quantity of peptide face and body gels to eliminate the expected temporary shortage.
Larens Colour Double Effect Mascara: 4 months' supply sold out in January
Another example is Larens Colour Double Effect Mascara. Just 24 hours after the launch, sales of the product reached the volume predicted for the entire two weeks. The sales success of the mascara exceeded our wildest expectations. In January alone, we sold the product's stock inventory anticipated for four months - so much so that the packaging manufacturer was unable to supply the necessary mascara weight containers for confectioning.
The second production batch, which went on sale a dozen days ago, allows us to breathe with peace of mind. In a short period of time, we were also able to work out with the packaging supplier new solutions, thanks to which we will be able to increase our production 4 times.
This is your success and your Business like no other
The rocket fuel that moves the heart of the WellU business vehicle is you! It is a pleasure we watch in analysis and statistics how your business grows. How you develop your strategy and work system and how you boast about your successes on social media.
In February, two major conferences were held in the structures of President WellU Lenka Kellnerova in Brno and President WellU Emin Akdogan in central Poland. This is not the end of leadership events! Over the weekend WellU Team Director Anna Sadurska organized her meeting in Lublin, and in March her event is being prepared in Olomouc by Irena Železná, Vice President of WellU. It's a strong start to the year!
In closing, we will quote for you the posts of our Business Partners that have appeared recently on social media and have resonated. Because this is your success!
[...] I thank WellU Business Group for the environment and conditions for development, which helped to Build a team from the ground up and in 3 months get the Director level and meet the qualifications for car pickup + 2x tours!
- Director WellU, Damian Walaszczyk
[...] Together with the vast majority of the Success Way Team community, we have selected a new Business Partner. We are just fine at WellU Business Group. For 4 weeks of January, that usually dead month, January in crisis, with rampant inflation, my team alone generated about 200,000 zloty in turnover, while the turnover of our SWT community is more than one million zloty.
- Director WellU, Agnieszka Sieczkowska-Klimek
[...] What do I love most about my work? What is the greatest value of WellU that is the PEOPLE!
- WellU President, Mana Manowska
Return to list