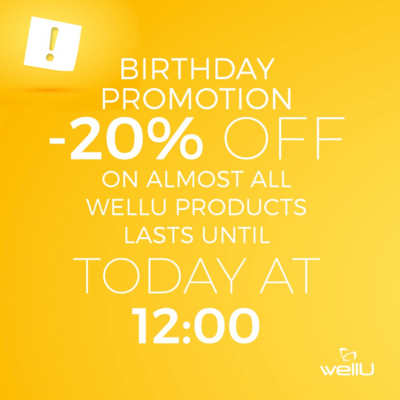 Birthday promotion -20% extended!
Attention, attention, this Tuesday morning we come to you with an important announcement - Rafal Pudyszak's birthday promotion -20% on all products* from WellU's offer will still last today (11.07) until 12.00!
We want each of you to have a chance to celebrate WellU CEO Rafal Pudyszak's birthday with us. Our promotion yesterday attracted so much interest that our servers, despite the immediate response of IT specialists, could not handle the traffic you generated. Therefore, by the decision of Dear Jubilarian, the promotion is extended until today, 12:00.
Don't waste time and make yourself a present on the occasion of Rafal's birthday!
*The promotion does not include: Travel Set, Nutrivi Peptimag Complex, Larens Golden Oil, Cannavi CBD Relaxing Balm, marketing materials and accessories.
Return to list