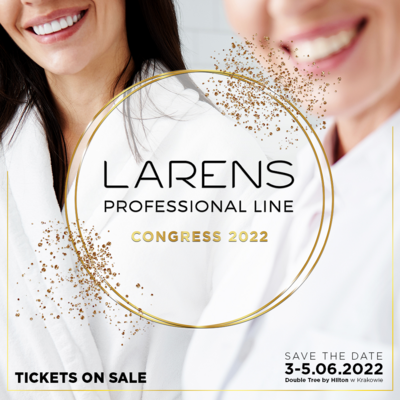 3-5.06.2022 LARENS PROFESSIONAL CONGRESS
DOUBLETREE BY HILTON Cracow

A CONGRESS FOR WELLU PROFESSIONALS
Live meeting amongst exquisite professionals is the perfect occasion to talk, discuss and exchange experience. A large dose of substantive knowledge, practice and expertise at the highest level – that's what the Larens Professional Congress 2022 stands for! We invite you to discover a brand that is not only based on professional care, but also aims to improve the quality of life on every possible level, all combined with the most innovative solutions in cosmetology and supplementation.
What can you expect from the congress in June?
REFRESHMENT TRAINING FOR LARENS PROFESSIONAL COACHES AND TRAINING FOR NEW COACHES (STARTS AT NOON)
*Note: Coaches will be invited individually to this event.
ARRIVAL OF THE REMAINING GUESTS - ACCOMMODATION STARTS AT 3PM.
CONFERENCE (10AM – AROUND 6/7PM)
For the Saturday conference, we have planned practical and substantive panel discussions focussed on Larens Professional, Larens, Cannavi by Larens and Nutrivi products. You will find out how to recognise a menopausal client in the treatment room, what to offer her and how to make use of Cannavi by Larens products during professional treatment. We will explain how to enrich cosmetic therapies with effective dietary supplements, how to combine them and how they differ. We have planned a demonstration of Larens Professional treatment with a professional device, a new product announcement and a comprehensive panel covering marketing and sales support at a beauty salon. Plenty of surprises await you!
DINNER, RECOGNITION GALA, PARTY WITH A DJ AND AN OPEN BAR
BREAKFAST, CHECK-OUT FROM THE HOTEL
*Please note that the above times are approximate and may be subject to change. A detailed agenda will be sent online at least 10 days before the event.
- Event price: 1100 PLN / 240 EUR / 5800 CZK / 200 £
- Event available only for PRO and PRO+ Business Partners
*The price includes a two nights' accommodation with breakfast (Fri/Sat, Sat/Sun), the Saturday conference with coffee breaks, lunch, dinner and the evening event (DJ, open bar).
* The price does not include meals on the day of arrival (Friday 03.06).
On the first weekend of June, the gathering of excellent beauticians, cosmetologists, doctors, physiotherapists and beauty trainers cooperating with Larens Professional will take place in Cracow. We warmly invite you, you can't miss it!
Return to list