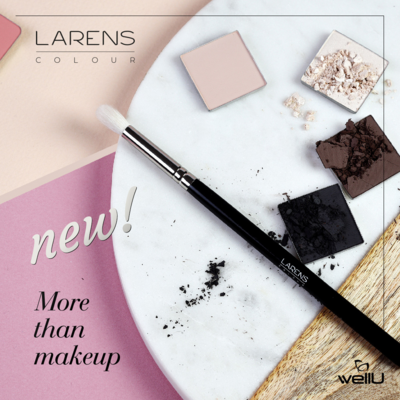 The great premiere – meet the Larens Colour makeup line
Larens Colour pressed cosmetics are like a 'final touch', a perfect finish to your makeup. They provide a subtle matt effect of smooth skin, they highlight the complexion, allow to define the face contour, and add a youthful blush that is so hard to resist….
Based on natural and mineral ingredients of the properties that are key to finish the makeup, they blend into the skin, allowing it to breath. Equally important is that they are free of any skin-burdening toxic emulsifiers, artificial filters, cyclic silicones, microplastic ammonium derivatives and nylon, parabens, and PVP.
The addition of natural, nourishing ingredients, such as magnolia extract, safflower oil, linolenic acid, carnauba wax, vitamins, and silica prove that Larens Colour is truly so much more than just makeup.
Larens Colour Powder
- light pressed powder, provides satin makeup finish and subtle matt effect.
Larens Colour Bronzing Powder
- light pressed bronzing powder. Improves skin colouring giving it a look of natural sun-kissed skin.
Larens Colour Highlighter
- satin pressed highlighter for face and body. Naturally brightens up make up with a glow or glass effect.
Larens Colour Blusher
- matt blush in a light powder formula enriched with care ingredients preventing the skin from getting dry.
Larens Colour Eyeshadow
- strongly pigmented eyeshadows. They provide for intense, yet natural effect and satin finish.
Larens Colour Eyebrow Powder
- powder eyebrows-styling shadows. They allow highlighting, defining, or correcting the eyebrows lines.
Larens Colour makeup accessories, in offer:
Larens Colour makeup brushes are made of the highest quality natural goat hair, as well as synthetic hair that perfectly imitates the natural hair in terms of porosity and flexibility: Eyeshadows brush, Powder brush and Blusher brush.
Refillable inserts - select your own favourite pressed products from the Larens Colour offer and contain them in a signature branded magnetic palette. Your composition can be freely modified, whenever you feel like a change.
And should your makeup products and accessories collection need more space and a good frame for a professional presentation, a professional Larens Colour train case.
Return to list