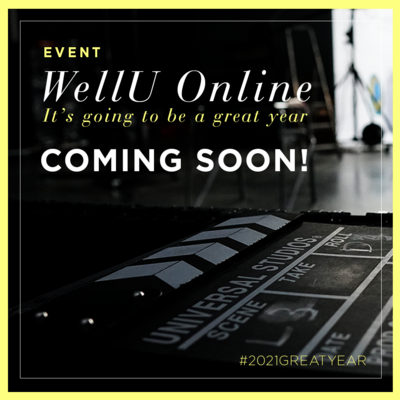 "WellU Online" – you can't miss it!
On Saturday, January 23 at 10 a.m., an online event for all WellU Business Partners, Customers and Fans will begin. We have planned many surprises for you. It will be a beautiful business adventure, carefully prepared from October 2020. What can be expected?What to prepare for? We will reveal the cards partially, today. But let's start from the beginning...
What should I do to participate in the event?
To participate in the WellU Online event you need to buy a ticket.
You can do it via the appropriate website:
CZ: https://cz.welluonline.eu/
SK: https://sk.welluonline.eu/
ENG: https://en.welluonline.eu/
IT: https://it.welluonline.eu/
1. Enter your email address in the appropriate box on the website and then click "buy access". Fill in the details needed for the bank transfer.
2. The website will redirect you to PayU online payments. Pay for your access. The ticket is an investment of EUR 10/PLN 40/CZK 250/GBP 9.
3. After paying for the ticket, you will receive an email with access to the purchased resources. It will contain a special link and your unique password. When you return to the WellU Online website, you should see a message confirming that you have purchased access; if you use a different device or browser, enter your email address and click the button - access will be granted.
4. On the day of the event, before10 a.m., use the link you received in the email. Enter your password. This way you will unlock access to the event and you will enjoy WellU Team's visit to your home, on your computer screen.
5. The broadcast will be in Polish translated into Czech (dubbing), Italian (voice-over) and English (voice-over).
Important Information!
The language of the page where you bought the ticket defines the language in which you will watch the broadcast:
| | |
| --- | --- |
| Ticket purchase page | Broadcast language |
| | PL |
| | CZ |
| | CZ |
| | ENG |
| | IT |
If you have already purchased a ticket, but would like to change the viewing language, please contact us at the following e-mail address: info@welluonline.eu
You cannot use one password on more than one device. The list of logins assigned to the paid passwords will be checked during the broadcast. If we notice any irregularities, access will be blocked.
What do I need to participate in "WellU Online"?
To participate in the event, you need the same equipment as for watching YouTube, i.e. a computer, headphones or speakers and access to the Internet. Make sure you are connected to the network. A good Internet connection is a precondition for smooth broadcast. It is a good idea to keep your phone near if you have agreed to receive text messages from WellU. If you do not receive text messages, you can give your consent to receive them here: https://wellu.eu/profile/edit.html (after log in) in the "marketing messages" box.