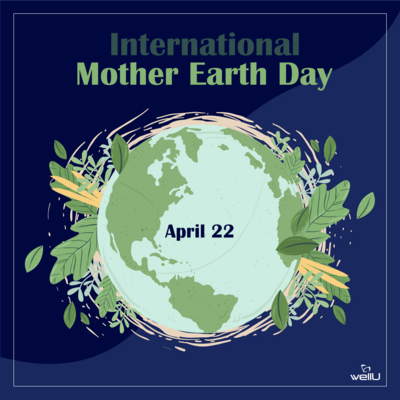 Today is a brilliant holiday: the Earth Day. Let's care for our planet with all our heart, because this is the largest heritage and the most wonderful capital that we transfer to the next generations. At our place, in WellU it is getting more and more green!
You know that we are a company that pays great attention to values. Nature delights us with its priceless wealth; there we look for inspiration to create effective cosmetic and supplementary formulas. We take care of our common future in a broader context, not only during the creation of our products, but also throughout the entire process of selling and supplying them to you.
We have repeatedly improved the materials used to secure our goods in transit to make them more eco-friendly. We have introduced smaller cartons to avoid using filler for small customer orders.
The cardbox boxes filler in the form of a foil pillow with air, which we apply, is a very economical and ecologic method of filling of the parcels – one pillow contains approx. 99% of air, and only 1% of the foil. It is recyclable in the whole and it results in that we do not have to use so much paper!
We do not foil our products. Where it is not necessary due to the transportation reasons, we do not use cardboard boxes.
And the most important issue: the Larens, Larens Professional and Larens Colour cosmetics were not, are not and will not be tested on animals.
WHAT ELSE CAN WE DO TOGETHER?
Now it's time to take the next, decisive step. We are adding a great deal of paper advertising and information material to our starter packs sent out with your first order. How much? We counted it. And we grabbed our heads in horror.
In 2021 alone (i.e. in less than 4 months) we sent you a total of 1554 packages with a total weight of 0.5 tonnes and containing 68,400 sheets of paper.
To produce this amount of paper, 6 to 8 medium-sized deciduous trees have to be felled. Assuming that the company has been in existence for 10 years, we can safely assume that we could - simplistically - save around 100 trees.
Printing is not just about trees. It also means electricity, water, delivery costs and staff time in paper and print shops, which could be used for good for the planet. With these resources, we could save the forest and organise a forest clean-up.
I am sure you will agree with us that these are huge numbers.
Therefore, we have good news for you!
From 1 May, we will not include any printed material in your first order that you do not order yourself. We are discontinuing the participation packs. Therefore the registration fee for min. 50 points will be 0,20 GBP / 0,25 EUR all the time, not only in case of promotion.
If there are any of you for whom printed materials are of great value, don't worry - we will still print them. We understand that there are times when you need catalogues and flyers for your work. Especially when new products are added to the WellU offer.
Are you with us?
Return to list