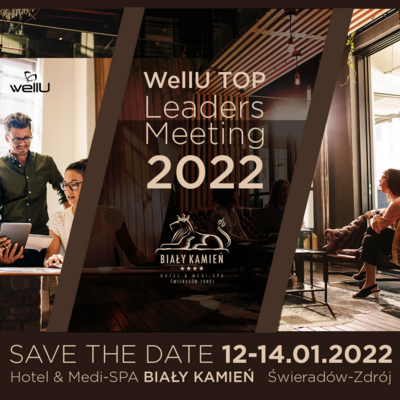 WELLU BUSINESS TOP LEADERS MEETING: 12-14.01
On 12-14.01.2022 in the Hotel & Medi-Spa Biały Kamień in Świeradów Zdrój, an elite meeting for WellU's strategic business partners will be held.
The invitation only recognizes leaders who meet the following conditions:
•
Leader + rank and 6,000 points, active Autoprogram.
People who do not meet the above conditions will be able to purchase tickets if:
•
In the qualifying period from November 17 to December 10, they will achieve the following result: Leader + rank and 6,000 points.
The TOP Leaders meeting will be workshop-like. You will learn what business programs we will support in the near future and what course of action we have planned for 2022. You will learn about new products and marketing tools that facilitate their sale.
If you want to influence the development of WellU's business strategy, you cannot miss the Business TOP Leaders Meeting!
-arrival of guests,
- buffet dinner.
- breakfast,
- meeting panels,
- lunch,
- meeting panels,
- dinner in a mountain style in a chalet
- breakfast,
- departure of participants.
TICKET PRICE AND ACCOMMODATION
Price: 175 €/ 145 GBP for BP, 195 €/ 165 GBP for an accompanying person.
*Important! Each business partner has the right to purchase a ticket for himself at the price of 799 PLN + one ticket for an accompanying person at the price of 899 PLN. The accompanying person will be accommodated in a room with the business partner who bought the ticket for them.
- conference part of the event,
- coffee breaks and lunch during the conference part,
- other meals: buffet dinner on Wednesday, breakfast on Thursday and Friday, grill dinner in a mountain style (the price includes except dinner - DJ, "warming" drinks).
- two nights in the hotel in a double room *** and *** with access to the Wellness zone (swimming pool, dry sauna, steam sauna with aromatherapy, brine and outdoor jacuzzi, ice igloo with crushed ice, brine tepidarium with mini-salt graduation tower).
*Important!
The rooms are allocated by the WellU office. We will take into account the date of purchase of the ticket and the rank of participants.
- gift pack
*Important!
Ticket sales will end on December 10.
Let's meet safely and responsibly! The meeting will be organized with the utmost care for the health safety of the participants.
(It works only for people tagged with a special tag in the system)
Return to list