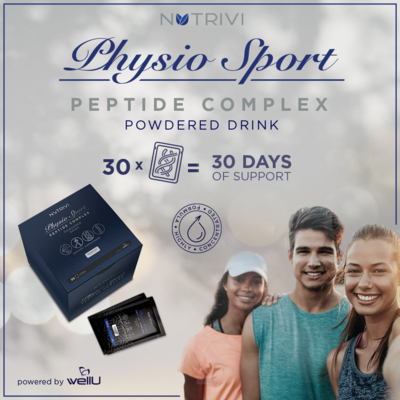 Two premieres! Physio Sport Peptide Complex in sachets and information film
The new, enhanced Physio Sport Peptide Complex formula contains a specially selected composition of ingredients including freeze-dried fish collagen, hyaluronic acid, pineapple extract with bromelain, MSM, glucosamine sulphate, chondroitin sulphate, beetroot extract, Japanese osmanthus and Indian frankincense.
The product is now available in handy sachets, each containing a daily serving of record-breaking lyophilised collagen from fish. The 30 sachets in a carton with a marketing leaflet make up a unique monthly treatment.
If you need strong, comprehensive support and you don't like capsules and tablets, Physio Sport Peptide Complex in sachets designed to be dissolved in water will be the perfect choice for you.
Why choose Physio Sport Peptide Complex?
The highest quality collagen
•
650 mg of lyophilized fish collagen of the highest quality in a daily serving thanks to innovative technological solutions and cooperation with scientific institutions
•
Base for lyophilized collagen: patented WellU bioactive complex of fish peptides and amino acids
•
the peptides contained in freeze-dried fish collagen enable transmission of a signal to fibroblasts, which initiate the synthesis of our own collagen in body tissues
Combination of proven ingredients and substances from the latest scientific reports
•
premium proprietary formula
•
Biologically active forms of proven ingredients with a broad spectrum of activity and high absorption, used in quantities consistent with current research
•
supplemented with substances not yet discovered by the supplementation industry
•
multi-tasking effect on the body: inhibiting unfavourable and supporting favourable mechanisms
Physio Sport Peptide Complex film premiere
We have one more premiere for you. We invite you to a 20-minute film material, which is a record of a conversation with our experts about the newest nutritional supplement in the Nutrivi family.
Return to list