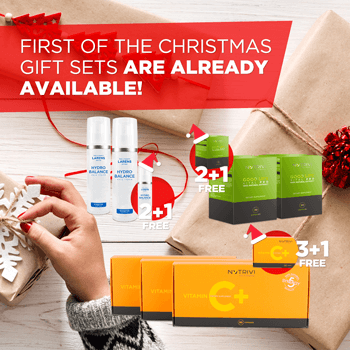 Time to start Christmas preparations! First of the Christmas gift sets are already available!
Even though the November has just started, we assume that some of you are already contemplating Christmas gifts for your beloved ones. To make it easier for you we have prepared few gift sets that are available starting today.
These are the products available in the Christmas gift sets:
Universal, ultra moisturizing cream with natural fish collagen peptides complex enriched with selected active ingredients, created for any kind of skin. Perfect for prophylaxis and skin protection: it moisturizes intensely, regenerates, postpones the ageing process, has soothing properties and protects the skin against free radicals. Thanks to its light consistency it is easily absorbable.


Product designed for vitality, balance, regeneration support of the organism's energy storage, stress resistance, and physical endurance. 100% of the natural plant extracts, composed for mutual synergy and enhancement.

- Vitamin C+ 90caps – Buy 3 + get 1 free -

only untill
23:59, 24.11.!
Diet supplement containing a unique composition of 5 natural plat extracts of 100% natural origin with a standarized content of active substances: vitamin C, silicon, citrus flavanoids and hesperidin in best absorbable form.

More gift sets are coming soon along with Christmas gift bags – all that you need for a nice surprise for your beloved ones, who would appreciate your concern for their health and looks :)

Psst! That's not everything!
Remember that we still have an ongoing offer for the GLA Face Cream and SOS Skin Care, SOS Skin Care AROMA, Revital Men and Syn Ake Serum+ for the active ones >>>> check our PROMOTIONS tab

and points offers:
• For an order of at least 100 points value, you will be able to purchase Lifting Face Cream for 1 cent.
• For an order of at least 150 points value, you will be able to purchase Beauty Intensiv for 1 cent! >>>> check out the SPECIAL OFFERS tab
Return to list