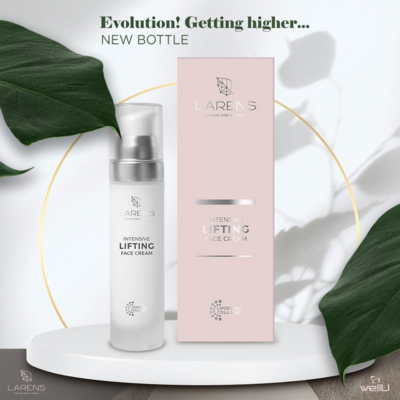 The premiere of Lifting Face Cream in a new package!
Advanced biotechnology products need a unique setting. Our next bestseller has just received it - an exclusive, intensively lifting cream for mature skin.
The packaging that you already know from LipoColl HA Hydro Serum, Syn Ake Eye & More new formula and Biorenew Serum is a unique example of a glass airless on the market. It combines the technical and functional advantages of a dosing pump with the beauty and luxury of a glass bottle.

A safe and convenient solution
The entire mass is not in contact with the hands; we only touch the amount of emulsion that came out of the dispenser. Thanks to this, bacteria do not get into the cosmetic and we do not have to remember about the cream spatula.
Airless packaging prevents air from entering the cosmetic mass. When dispensing the product, no air enters the bottle, which protects the cosmetic against the growth of microorganisms and the oxidation of active ingredients. The packaging ensures the highest quality of the products throughout its lifetime.
#Zero Waste: squeeze to the last drop...
The dosing pump of our new packaging has been designed in such a way that the cosmetic can be applied even while holding the bottle upside down. This efficiency makes you squeeze the cosmetic to the last drop. Nothing will be wasted!
More efficient recycling process. WellU Goes Green
Beautiful and effective in use bottles are additionally equipped with the innovative"Eco-Lock" system, which allows you to disassemble the used packaging in order to carry out a more effective recycling process.
How does it work? In a glass jar there is a thin bag with a dispenser and a stick, around which the bag shrinks. When we use the cosmetic to the last drop, just twist the pump with a firm movement - this will allow you to remove the plastic part of the dispenser together with the inside. Glass should be disposed of in glass, plastic in plastic waste.
Return to list