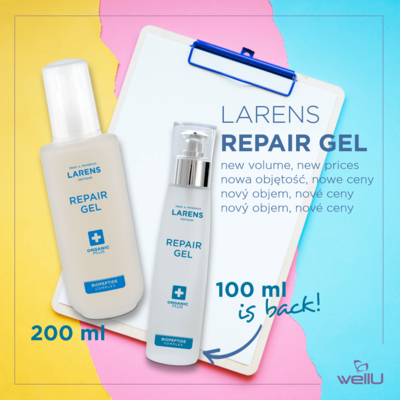 The new volume, new prices - news regarding Larens Repair Gel
EDIT: Attention! The previous version of this information had errors - prices in EUR, KCZ and GBP were wrongly copied from another product.
Below you will find the correct pricing:
Repair Gel 100ml - 169 PLN; 42,25 EUR; 1162 KCZ; 43,25 GBP
Repair Gel 200ml - 249 PLN; 62,25 EUR; 1712 KCZ; 62,29 GBP
We are truly sorry about this inconvenience!
....
Here are a few things that you should know about the changes that will concern one of Larens iconic products - collagen peptide Repair Gel.

The 100 ml volume is back
On 11th of October 2018, the 100ml bottles of Larens Repair Gel get back in the store. New-old volume in bottles and boxes that you are already familiar with will be available for a retail price of 169PLN, 1162 KCZ, 42.25 EUR, 43.25 GBP, point value 13 P.
We are finishing the special offer on the 200 ml
Due to the return of the 100ml, 11.10 will also bring the end to the special, long-term offer on the large, 200ml Repair Gel bottle. This product will be available for 249 PLN, 1712 KCZ, 62.25 EUR, 62.29 GBP, point value: 22P.
Last minute for the current promotions
This upcoming Wednesday (10.10 11:59 PM) will also end the current promotions: Larens Beauty Intensive Duo -20%, Larens Syn Ake Eye & More -20%, and Nutrivi Get Up -20%. We encourage you to take advantage of the last days of those offers. Keep in mind that they may finish earlier if we run out of the promotional stock. Details
>>> here<<<
Return to list