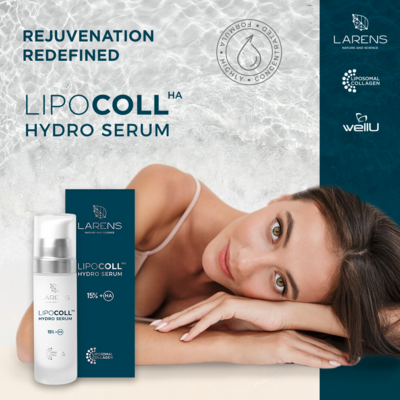 The new definition of rejuvenation – LipoColl HA Hydro Serum available for sale!
A complex hydration of all skin layers. Collagen and hyaluronic acid in liposomal form for a sensational hydration and skin rejuvenation.
The new LipoColl HA Hydro Serum 30 ml on sale!
Nature's 2 most powerful moisturizers in one form that allows them to reach the deepest layers of the skin.
Our serum contains the highest concentrations of Liposomal Collagen Complex and liposomal hyaluronic acid possible, which makes this preparation with unique composition easy for home treatment.
How does this only such a special formula on the market nurture of your skin?
Thanks to Larens new definition of rejuvenation - Hydroboosting - the skin recovers by being strengthened, smoothed, elastified, saturated with collagen and hyaluronic acid, thickened and hydrated.
The result? A younger appearance, which means radiant, smooth, hydrated skin without signs of fatigue or stress.
See for yourself what LipoColl HA Hydro Serum can do for your skin!
Return to list