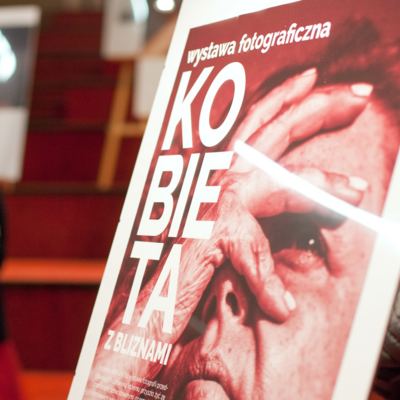 The exhibition "Woman with scars" is already for viewing in the Tricity
On the last Tuesday of the year, we hosted in Gdyńskie Centrum Filmowym [Gdynia Film Centre] the inauguration of the exhibition "Woman with scars" by Fundacja Poparzeni [The Burn Foundation].
This is a new venture that we partner with and support with our products.
The "Woman with scars" exhibition is part of the nationwide campaign of Fundacja Poparzeni, which addresses the problem of exclusion of people with burns. Through social campaigns the Foundation would like to draw attention to the dramatic situation of persons who have been burned in Poland: to the difficult access to treatment and rehabilitation, lack of acceptance by society and discrimination in the labour market.

"When after an accident you look at your body covered with scars, your whole inside cries out that this is not you. These are so strong emotions that you cannot control. When you go through it, you feel how alone you are in your suffering, there is no social, rehabilitation and psychological support - nothing. Because of my appearance I lost my job and was unable to find another job. I experienced firsthand how one can humiliate another person. I received more and more signals that the environment does not accept people with scars and nobody knows anything about burn disease. Then the idea came that I will show what the body of a person who has been burned looks like and tell their story. I asked people who I cared for about their participation in a photo shoot but everyone refused. 'It is already hard for me to live - without having to go and show myself to all of Poland' is what I heard. I decided that I'll take on myself the entire burden and show what burn scars look like. I will educate society that we are the same as other people they pass on the street. Today, the people I care for live differently, I give them light that they can go back to life before the disease", says Jolanta Golianek, the initiator of the exhibition, the founder of Fundacja Poparzeni and the heroine of the story told in 10 photos. After seven years of treatment, rehabilitation, skin transplant operations, struggles with depression and anxiety she decided to come out of the shadows and share her history. She set up Fundacja Poparzeni, which works with burn patients and their families, supports them in treatment and the acceptance of their body and also seeks to improve the quality of life of those in her foundation. She has won the award "Człowiek bez barier" [Man without Barriers] in 2016 awarded only to disabled persons, who with her attitude argues that a disability does not have to be a restriction.

If you were not with us yesterday - nothing is lost. You can still view the exhibition in the Gdyńskie Centrum Filmowym to 8.01.2017. On the dates 12.01-27.01.2017 it will be stationed in Gdansk at the club Żak and then will move to Warsaw, Poznan, Wroclaw, Bydgoszcz and Olsztyn. To track the route of the exhibition go here: http://bit.ly/wystawa_kobietazbliznami

We invite you - the project is worth our entire attention.