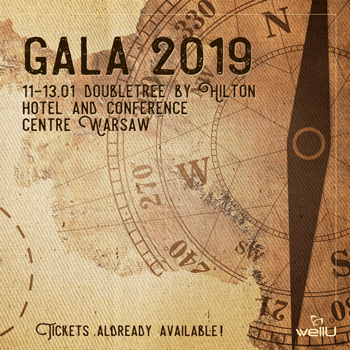 The 2019 WellU Gala tickets sale has been launched!
Starting today we have launched the long-awaited tickets sale for the
2019 International WellU Gala
!
It's almost tradition by now for this event to take place in your favourite
Double Tree by Hilton Hotel and Conference Centre Warsaw
during the second weekend of 2019 –
11th-13th of January
.
Once again let us carry you away to the World of WellU and let yourself discover new, unknown lands of business, oceans of professional knowledge, and archipelagos of new products. Learn how to escape dangerous shoals and make international friends.
Basing on the popularity of the previous Gala and the September Business Weekend, we are ready to host an even larger number of guests on board! This time we can take 300 passengers – just as many as the number of the brave Spartans who fought against Persians in the Battle of Thermopylae. Knowing you all, we already forecast that the temperature will beat the one of the Rio carnival. You can't miss that!
Only until the
18th of November
, we have
200
special priced tickets for you! Starting from
120EUR/105GBP
*!
Hurry up and make sure you get your ticket for a cruise to the World of WellU! Tickets will only be available for purchase until the 31st of December unless we sell out all of the available
300 tickets earlier
!
Don't wait up, make sure that you and the people with whom you wish to share those special moments will not be short on tickets! You will find detailed information on our page.
*Standard ticket price
Return to list