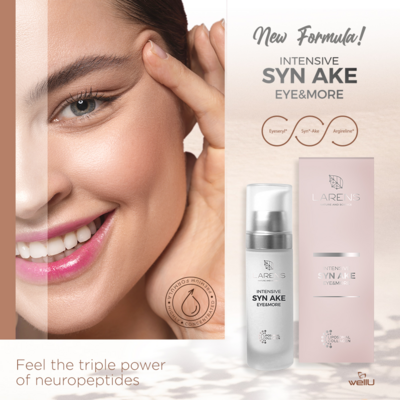 SYN AKE EYE & MORE NEW FORMULA NOW AVAILABLE!
We end the day with information that will make your hearts beat faster. Syn Ake Eye & More New Formula has just been added to the WellU offer.
What will you love the new Syn Ake Eye & More New Formula for?
Innovative formula harnesses the power of neuropeptides and active ingredients
selected for the care of delicate skin around the eyes. The serum eliminates wrinkles and puffiness in this area, nourishes, moisturises and rejuvenates the skin, bringing a rested look and 'open eye' effect.
The new edition of Syn Ake Eye & More serum is a luxurious, creamy, yet lightweight and well absorbed texture, perfect under make-up.
Syn Ake Eye & More New Formula…
Cares for delicate skin around the eyes: moisturises, firms, nourishes, strengthens
improves subcutaneous circulation, brightens dark circles around the eyes
eliminates mimic wrinkles around the eyes and in other areas of the face - fills them and neutralises the micro-contractions of nerve fibres
opens the eye - giving the effect of a rested look without swelling
stimulates the skin to regeneration,
revitalises it
relaxes the face, prevents the appearance of new mimic wrinkles or deepening of existing ones
Order now! >>
Return to list