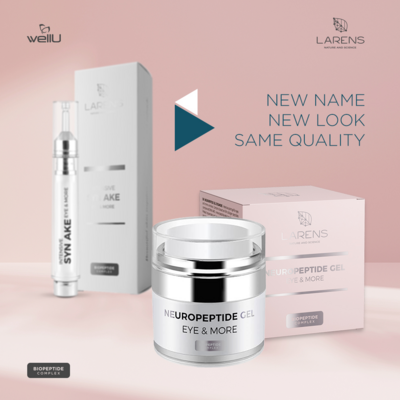 Syn Ake Eye & More 15 ml changes the name and packaging
Neuropeptide Gel Eye & More is the new name of your favourite eye and facial wrinkle gel, which until now, you knew Syn Ake Eye & More 15 ml. We have enclosed it in a new handy airless jar. Why did we change this product? Check it out!
New name - Neuropeptide Gel Eye & More
Why this change? The cosmetic formulation is composed of a whole group of peptides and not - as its last name might have indicated - only one, SYN®-AKE. We wanted the new name to clearly emphasize the function of the SYN®-AKE peptide (a neuropeptide) but also not to suggest that this particular ingredient predominates in this complex product. In the Neuropeptide Gel Eye & More formulation, we also have Eyeseryl®, a latest-generation bioactive tetrapeptide. Its powerful anti-oedema properties and a whole range of fish collagen oligo- and polypeptides provide immediate and long-lasting hydration in all layers of the skin.
New packaging – an airless jar
We know that many of you liked the previous gel packaging in the form of a syringe suggesting an intense and spot-on "Botox-like" cosmetic effect. Unfortunately, this packaging was not reliable. The packaging often broke, resulting in discouraged customers and many complaints. The current packaging, an airless jar, prevents direct contact of the cosmetic with the external environment. The cosmetic does not come into contact with fingertip-borne bacteria and the effects of light and oxygen. Such an application system prevents the decorative assembly from returning to the package. Providing a sterile environment for the cosmetic mass inside the box significantly extends the product's shelf line. The jar itself is also more durable. It is much more difficult to damage it.
Return to list