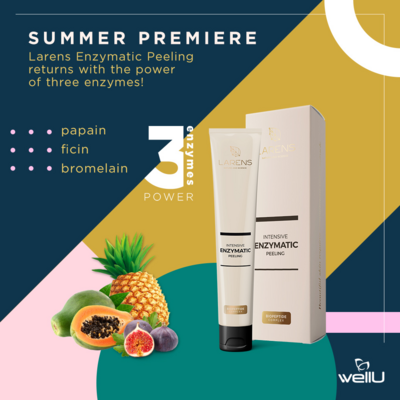 Summer premiere - Larens Enzymatic Peeling returns with the power of three enzymes!
It's good to support your skin in its cellular renewal processes. Why?
because they can be irregular and uneven for different parts of your face

because once freed of the calloused epidermis and dirt will better absorb the richness of the active ingredients contained in care products

because we like the skin that breathes, is beautiful, radiant, and has even colouring
These are but three important reasons for which we have taken yet another careful look at the recipe of our enzymatic peeling and we have decided to spin its exfoliating properties so that it gets its job done even better.
Today we hand you the Larens Enzymatic Peeling in a new, even more effective formula. With a strength of not one, but three enzymes it will uncover the beauty of the skin. Get ready for some serious enzymatic strike of: papain, ficain, and bromelain!
The exfoliating effect is provided by three natural plant proteolytic enzymes: papain from papaya fruit, ficain from fig fruit, and bromelain from pineapple. When applied on the skin in the correct concentration, they exhibit abilities to dissolve dead, callus epidermis cells. What's important is that they only affect the surface, they do not require rubbing, so they do not cause irritations and are safe even for the most sensitive and couperose skin.
Papain

is a component of a revolutionary ingredient called Peelmoist™, which stimulates hydration and prevents roughness and dryness of the skin. In the new formula, Peelmoist™ has been included in a 60% higher concentration, which guarantees more intense effects.

Ficain

obtained from fig fruit is a proteolytic enzyme of the strongest exfoliating properties. It smoothes the skin and is also perfect for callus removal, also together with the dirt.

Bromelain

is a proteolytic enzyme obtained from pineapple. Aside from the delicate exfoliating properties, it also accelerates wound healing, is anti-inflammatory, and soothing.
Further soothing and regenerative effects are assured by the fish collagen peptides from the Biopeptide Complex, a witch hazel extract that stimulates the cell division, has astringing and antibacterial properties, and zinc gluconate that reduces redness and irritations. The addition of L-arginine improves blood circulation, providing massage-like benefits. Thanks to that the face becomes brightened, its colouring healthy and refreshed
The new Enzymatic Peeling stands for the even better-exfoliated epidermis, more intense skin-refreshing properties, and support for the skin's regenerating cycle.
P.S. A for the cherry on top - the peeling has been dressed in a new packaging linking it to the Intensive line.
Return to list