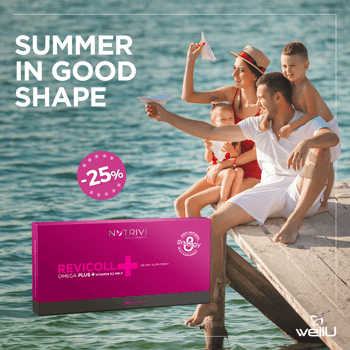 Summer in shape! Check out how easy it can be with Nutrivi Revicoll -25%!
Promotion valid until 20.7.2018 (23:59) or until stocks last!

Summer vacation - a time of increased outdoor activity, sunbathing and traveling. Strengthen your body to make it an example of health and vitality. How to do it?

Provide yourself with comprehensive supplementation featuring Nutrivi Revicoll Omega Plus+Vitamin K2MK7 with the Biopeptide Complex, Omega acids , vitamins A, D, E, K, calcium, and a wide range of trace microelements essential for your body. Now, in summer offer you will buy:
Revicoll Omega Plus + Vitamin K2MK7 60 caps. 25% cheaper*
* -25% point value
Catch the Summer sunrays together with the offer, it's valid while the stock lasts or until cancelled.
Return to list