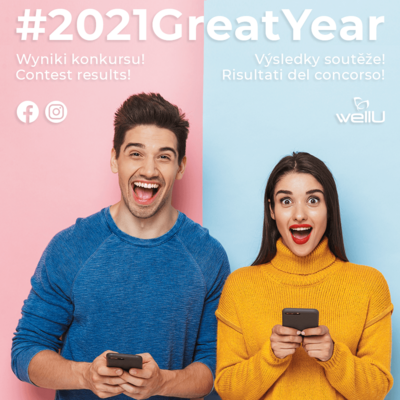 Results of the competition #GreatYear2021 CZ
My Dear Business Partners, thank you very much for such a strong participation in the competition. We are impressed with your creativity. During the past four weeks the social media were throbbing with the spirit of WellU! There came the time to determine the winners.
The prize in the competition is a course of building your personal brand and developing the business in the social media.
The course in Czech with Eliška Vyhnánková, the author of the bestselling book "How to Network", was won by:
5.
Klára Svobodová Kubánková
Our friends from the Czech Republic and Slovakia showed exceptional creativity in the competition. Due to the fact that in the rules of # 2021GreatYear competition both countries were united into one ranking and many participants took part in the contest, we are adding another 4 places on the podium. They are for participants with more than 400 likes.
Additionally, the competition winner receives from us 2 hours of individual consultations concerning his / her fan page and the second place winner & third place winner - 1 hour of individual consultations.
When will the course take place?
The first part:
26.02
14:00-18:00
The second part:
19.03 14:00-18:00
Sincere congratulations for the winners! We keep our fingers crossed so as the participation in the competition would give you lots of satisfaction and perfect tools to conduct your business online! Soon we will contact you to provide you with the details concerning logging into the online platform, where you will meet the hosts.
Return to list