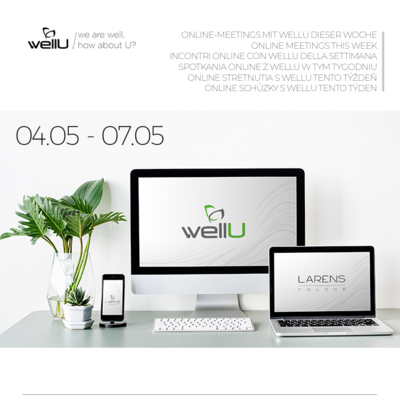 ONLINE MEETINGS THIS WEEK: 04.05-07.05
Welcome everyone! We invite you to read our guide about the online meetings: Zooms, webinars and lectures. What have we prepared for you next week?
BUSINESS WITH WELLU, 06.05, 21:00
Are you going to open an account in WellU online shop? Or maybe you opened the account, placed the first order and you are wondering what next …? Simple answer. Join the webinar "Business with WellU"!
The Host will tell you what to do step by step to earn an extra salary with WellU and at a later stage – to become a professional in this business. You will learn what is the "Spirit of WellU", why our sympathizers say that you "can smell a human being" at our company. Cooperation with WellU is a wonderful team playing. Join us and check it, what we play for!
Why it is worth joining us during the webinar?
•
You will get to know the company WellU from scratch.
•
You will learn what values are our signposts.
•
We will show you what is the reason for the company's turnovers' increase by 30% on the not easy market over the previous years.
•
You will learn what WellU is a pioneer in for the world's scale.
•
You will learn the history of the company, you will know what proves its uniqueness.
•
You will learn what is the engine that drives our business.
•
We will teach you how to effectively make a presentation for a new person.
The meeting will be hosted for you by: Monica Sironi in Italian.
SEE THE WHOLE LIST OF WELLU MEETINGS
To see the list of all the webinars you should untick the default language of the event in the field "language".
Return to list