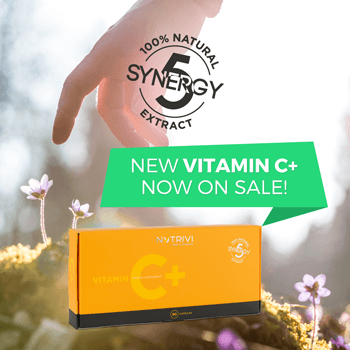 New Nutrivi Vitamin C+ on sale now
Nutrivi Vitamin C+ is a dietary supplement containing a unique composition of 5 natural plant extracts of 100% natural origin, with standardized content of active substances: vitamin C, silicon, citrus flavonoids and hesperidin, in their best digestible forms.
The natural origin, proper proportions and synergy of the 5 ingredients that make up Nutrivi Vitamin C+ are the basis of the multifunctionality and complexity of our product.
Their beneficial effect on the health and condition of the body is relevant, and it becomes an absolute necessity nowadays to provide them from the outside.

The packaging of the new Nutrivi Vitamin C+ contains 90 capsules of unique nutraceutics. The changes that have taken place in the formula symbolize "+" at its name. This "plus" means 'more', 'better'.
COMPLEXITY
MULTIFUNCTIONALITY
100% NATURAL EXTRACTS
5 INGREDIENTS SYNERGY
HIGH ABSORPTION
5 active ingredients, including 3 completely new extracts

, whose effect is based on the principle of synergy 1 + 1 = 3, which means "together we can more"

20% more plant extracts

(compared to previous version)

A new, elegant package with an attractive, transparent brochure

inside that can be a great marketing material to support your sales.
Price that remains unchanged:

28 €

in detail, for Business Partners even up to -40% cheaper

Bigger point value

for Business Partners -

7 P

per pack
Each capsule of the new Nutrivi Vitamin C+ contains 5 natural extracts:
ROSA CANINA - 230 mg Rosa canina extract standardized for 70% of vitamin C (contains 161 mg of vitamin C)
ACEROLA - Acerola extract standardized for 25% of vitamin C (contains 42,5 mg of vitamin C)
BAMBOO - 170 mg Bamboo shoot extract standardized for 70% of silicon (contains 21 mg of silicon)
CITRUS BIOFLAVONOIDS - Bitter orange extract standardized for 40% of citrus bioflavonoids (contains 16 mg of citrus bioflavonoids)
HESPERIDIN - Bitter orange extract, standardized for 60% of hesperidin (contains 12 mg of hesperidin)
More on the action of the preparation, its active ingredients you can find in the brochure inside the package, which you can download also here >>> New Nutrivi Vitamin C+