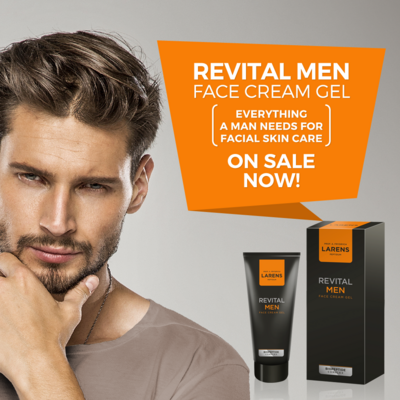 Now on sale! Revital Men Face Cream Gel - everything a man needs for facial skin care
The vast majority of men, even if they are aware of the need to use facial skin care cosmetics, treat the matter leniently. They fear that it will require from them a lot of time and commitment. They see some creams as not male enough, others avoid them because they do not like the feeling of the oily or sticky layer that preparations leave on the skin.
New Revital Men Face Cream Gel is a product that was created in response to all the needs of male skin and meets the requirements of a compact and perfect cosmetic for its care.
Revital Men due to its rich, comprehensive composition cares for the daily care of men's skin. It provides deep and long-lasting moisturization, preventing the unpleasant feeling of tightness and roughness. It regenerates, stimulates wellness processes in the skin, thanks to which the skin becomes supple, resistant to external factors, obtains uniform colouring and wrinkles are smoothed. The unique components of the new Revital Men also support the protection barrier function of the skin, soothe irritations and reduce redness caused by shaving. More importantly, it also provides anti-inflammatory and antibacterial actions. The light cream gel consistency of the preparation appeals to men's tastes - it absorbs quickly, not leaving an unwanted layer on the surface of the skin.
More information on the activities and active ingredients of the cream you can find here: Revital Men Face Cream Gel.
Preparation not only has an improved formula, but also a fresh, modern packaging design. The changes also apply to the prices and capacity of the cream: for a 50 ml tube you pay 17,00 GBP/19,75 € (retail price).
Important: Shipping of the first orders will be on Wednesday, 14 December 2016.
Return to list