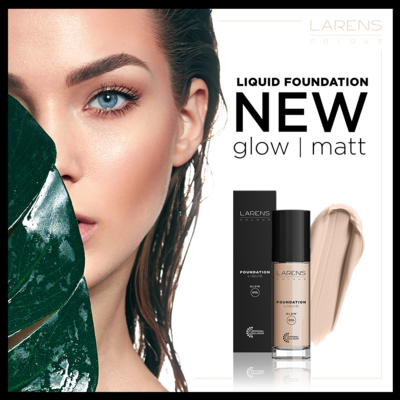 New! Meet Larens Colour liquid foundations
Here they come! Long-awaited! The impeccable complexion, durability, amazing application properties, and - on top of that - great care. Meet Larens Colour foundations.
Nourishing foundations from Larens Colour are an ideal start, a perfect base for every makeup.

Greatly pigmented, with initial medium coverage that can be easily intensified with additional layers. Thanks to the ideally applicable, long-lasting formula it does not create smudges, doesn't separate nor create a caking effect. It stays on throughout the entire day, even the most intense one.
Available in two finish variants: radiant Glow and impeccable Matt:
Glow effect care foundation. It evens the colouring, subtly reflects the light, providing the effect of radiant, smooth skin. Thanks to the richness of selected active ingredients it moisturizes, firms, nourishes the skin.
Gentle matt finish care foundation. Perfect for makeup of oily and mixed skin, prone to shining. A rich composition moisturizes, firms, nourishes the skin, soothes irritations and regulates the sebum secretion level.
For starters, you will find two shades of each in our store: 01 warm light and 02 warm medium. The colour spectre of our foundations will expand with time.
Nearly 90% of the active ingredients contained in Larens Colour foundations are of natural origin. Their formulas were composed in a way that allows the skin to enjoy Larens care while wearing makeup: be moisturized, stimulated to regenerate, firmed, with soothed irritations.
At the same time, we made sure that the foundations' compositions are free of skin-unfriendly ingredients that burden it. Free of ingredients that you don't like, such as polycyclic silicones, microplastics, harmful filters, ammonium compounds, parabens and PVP, nylon, phenoxyethanol, and aluminum.
Choose your shade and enjoy makeup that will care for the beauty of their skin - both on the outside and from the inside. Because Larens Colour is more than makeup.
Return to list