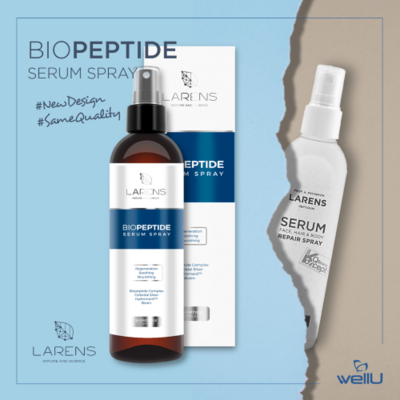 New edition of the iconic Larens peptide serum
With incredible joy and immense delight, we have observed the results that you obtained during the last few months. You must know that: what we see, gives us wings, and those allow us to fly really high and develop dynamically. And they also bring moments like this one, when the premiere of the new product packaging, the first one in line, needs to be rescheduled from January 2020 to November 2019, as the entire old packaging product stock has been sold out 2 months sooner than we have expected!
Here it is, the iconic bestseller, the irreplaceable peptide serum, gaining new, refreshed looks and a distinct name:
Biopeptide Serum Spray.
The product now has a dark-tinted bottle to additionally protect its contents and an absolute premiere graphic design of the packaging - a new logo pointing a new path for the products from this line. The composition, formula, and properties - will remain the same, meaning amazing!
We are absolutely sure that you will get to like the refreshed Biopeptide Serum Spray in no time. Something tells us that you may even fall in love again ;)
PS> Changes apply to the 250 ml product and will soon cover the second volume as well - 150ml.
Return to list