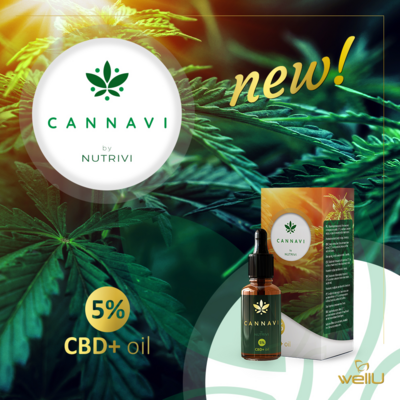 New: Cannavi oil by Nutrivi!
At the moment the value of the CBD market in Europe has reached approximately 450 million euros. To meet the market trends, during the Business Weekend we have announced a premiere of a new line of products with cannabinoids. It is inaugurated with the Cannavi oil by Nutrivi 5% CBD+ Oil.
A natural composition of cannabidiol (CBD), cannabigerol (CBG) together with cannabinoids, terpenes, and flavonoids from hemp. The golden Cannavi by Nutrivi oil is perfect support in building up a habit of holistic care for perfect shape and fettle. Just two drops of the product consumed three times a day will allow you to fully appreciate the mother's nature masterpiece - the Cannabis sativa plant.
How do cannabinoids work?
Hemp is a plant that continues to arouse much controversy. At the same time, their numerous medical applications cannot be denied. As science develops, there is more and more evidence of their soothing, therapeutic, and even curative effects and the list of diseases they can help is truly very long.
- says Dr. Hab. Hanna Pińkowska, prof. University of Economics in Wrocław.
Over 520 compounds of different groups have been identified in Cannabis sativa L. hemp, which is used for the production of CANNAVI BY NUTRIVI oil. These include flavonoids, dihydrostilbens, phenanthrenes, spiroindanes, but the most specific to this plant are cannabinoids. Hemp has over 100 of them. The best known are CBD, strongly researched CBG, as well as CBDV, and CBN.
Our brains, specifically their areas responsible for memory, cognition, pain sensation, and psychomotor skills (etc.) contain cannabinoid receptors. They belong to the endocannabinoid system. It is a signaling system that allows to maintain homeostasis in our bodies. Various active substances react with the receptors to produce specific effects.
The most modern cryo-hybrid production technology in Europe allows us to obtain a rich Full Spectrum oil from hemp. It is the essence of phytocannabinoids, terpenoids and flavonoids - the most perfect because it was designed by nature. CBD, CBG, CBDV, CBN with terpenes create synergy withi the oil.
Cannavi does not exhibit psychoactive properties, therefore its use is safe. The trace concentration of THC in the product is analyzed in detail at every stage of production.
· Unique technology of production
· Trace, safe, controlled content of THC (below 0,2%)
· No psychoactive properties
· Microbiological tests
· Tests for the presence of heavy metals
· Raw materials with BIO certificate, certified product
Return to list