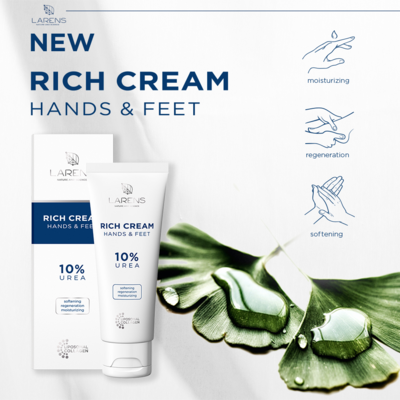 Meet Rich Cream Hands & Feet - an absolute Larens premiere!
The time has come to introduce the new product from Larens. Please meet the absolute premiere, A rich hand and foot cream with liposome collagen and urea - the Rich Cream Hands & Feet.
10% Urea moisturizes intensively but it does not peel, Liposomal Collagen Complex saturates the skin with collagen. Contains the complex of the components soothing irritation, smoothening and accelerating regeneration – gluconolactone, zinc gluconate, D-panthenol and allantoin. Biotin and Vitamin E stimulate the processes and strengthen the skin and nails.
How does the Rich Cream works? Like regenerative compress for dried and rough skin:
It increases moisture of the skin

softens and smoothens the skin

soothes irritation, for example caused by detergents

eliminates itching and feeling of skin tension

accelerates regeneration of the skin

provides relief for dry, rough, chapped skin
It works!
PS. Rich Cream Hands & Feet is also available in the Larens Professional Line - in a large, 400 ml bottle with a pump.

Take me to the shop >>> click here!
Return to list