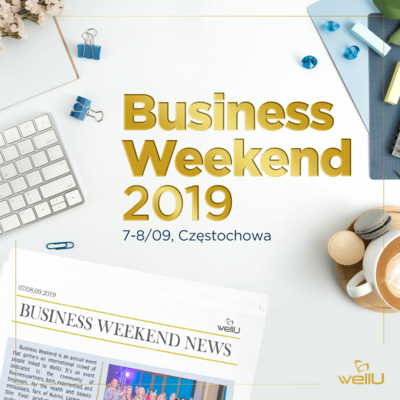 Let us invite you to the Business Weekend 2019!
Business Weekend is an annual event that gathers an international crowd of people linked to WellU.

It's an event dedicated to the community of Businesspartners, both, experienced, and beginners, for the health and beauty enthusiasts, fans of Nutrivi, Larens and Slim Food products, MLM business professionals, experts in the fields of beauty&health, cosmetology, medicine, and, last but not least, WellU employers and Associates.
During this event, we concentrate on talking about business in WellU. We summarize the results, gather experiences, and distinguish the motivational successes of our Businesspartners

. It is also a time for exclusive, hot products premieres, together with the accompanying expert panels.

We will also conclude the multicompetition and finally find out, who will go to Mexico!
The day filled with business shall always be topped by the moments of relaxation and joyful fun. And so,

the festive evening dinner and the dance party

is something that the Business Weekend participants look forward to just as eagerly.
Also this year, we couldn't even imagine that You wouldn't be joining us. That's why we are launching the sale of the Business Weekend 2019 tickets today!

This time the event will take place in Czestochowa on 7-9th of September 2019.
Feel the energy of meeting people connected by WellU, be with us at the Business Weekend 2019. See you in September!
For all information about Business Weekend 2019 and tickets, please go to >>> EVENTS tab<<<
Return to list