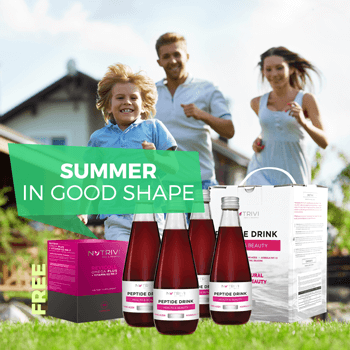 Summer in shape! Check out how easy it can be with our new promotion!
Summer vacation - a time of increased outdoor activity, sunbathing and traveling. It is also the time when our body, skin and hair are strongly exposed to the sun or frequently changing environmental conditions. High outdoor temperatures versus air conditioned rooms are a test of your immunity. Strengthen your body to make it an example of health and vitality. How to do it? Just check our promotion! And in it:
The Health & Beauty Peptide Drink is one of our flagship products, which is highly acclaimed and we owe it to its absolute uniqueness and outstanding effectiveness in promoting health and beauty. Is an unrivalled source of amino acids and peptides from fish collagen, 100% natural and the best digestible source.
Along with a peptide drink, you can improve your vitalizing and enhancing treatment with Revicoll Omega Plus + Vitamin K2MK7 - a multifunctional mix with a significant effect on the cardiovascular and skeletal system.
Now watch out! When buying a four pack of

Health & Beauty Peptide Drink

, you will get FREE 30 capsules of Revicoll Omega Plus + Vitamin K2MK7!
Pssst! There are still some supersales left!
We have a great opportunity for our Partners and Businesspartners in the PRO section - now if you buy Syn Ake Eye Cream PRO, you will get a second one for free!
Keep in mind that there are still ACTIVE deals on GLA Face Cream, Syn Ake Serum+ and Hyaluron Serum for being active >>>> check our PROMOTION tab
and offers for points:
• Make a purchase for 100 points or more and get Silver Face Gel for 1 cent!
• Make a purchase for 150 points or more and get Beauty Intensiv Set for 1 cent! >>>> check our SPECIAL OFFER tab
Return to list