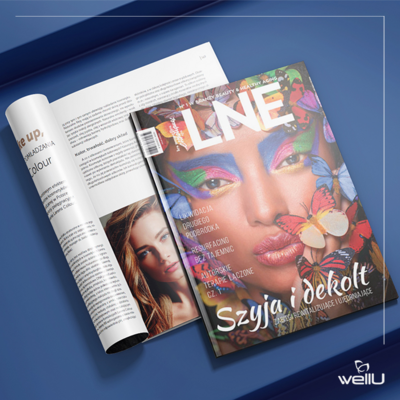 Larens Colour w 135 numerze "LNE"!
Na łamach 135 numeru "LNE" marka Larens zagościła wyjątkowo w dziale… stylizacje! Dlaczego? Ponieważ korektory, kremy BB i podkłady Larens Colour idealnie wpisują się w Top trendy 2021 w makijażu. Rozbudowany, wieloetapowy rytuał pielęgnacyjny jako priorytet wkracza szturmem do kosmetyki kolorowej.
Na stronach 170-171 przeczytacie, gdzie zmierzają aktualne makijażowe trendy. To tekst światowej sławy wizażystki, wieloletniej wykładowczyni w Szkołach Makijażu i Stylizacji i Charakteryzacji, Renaty Majewskiej.
Strony 172 i 173 to spojrzenie na markę Larens Colour okiem redakcji "LNE" rozbudowane o wypowiedź Katarzyny Adamiak, manager ds. badań i rozwoju i członkini Rady Naukowej WellU.
Produkty Larens Colour łączą efektywną pielęgnację z najnowszymi trendami w makijażu. Kosmetyki te widocznie poprawiają jakość skóry, zapewniają efekt krycia, niwelują niedoskonałości i ujednolicają koloryt cery. Stworzenie takich produktów nawet dla firmy znanej z nowatorskich rozwiązań łączących nowoczesną technologię i naukę, było sprawdzianem uporu i konsekwencji
– czytamy na stronach magazynu.
Kolagen liposomalny w produktach płynnych Larens Colour przenika przez barierę naskórkową w głąb skóry, pobudzając ją tym samym do syntezy kolagenu własnego oraz dostarczając podstawowe białko strukturalne w miejsce jego bezpośredniego działania. Skóra staje się zagęszczona, nawilżona, rozświetlona, a zmarszczki są znacząco zredukowane
– opowiada Katarzyna Adamiak.
Jesteście ciekawi, co jeszcze "LNE" napisało o Larens Colour?
Zapraszamy do pobrania artykułu w formacie pdf tutaj:
https://wellu.eu/news/downloads/605,file,lne-135-larens-colour.pdf?__language=pl
(Dostępny po zalogowaniu)
Polecamy również zakup prenumeraty magazynu "LNE":
Return to list