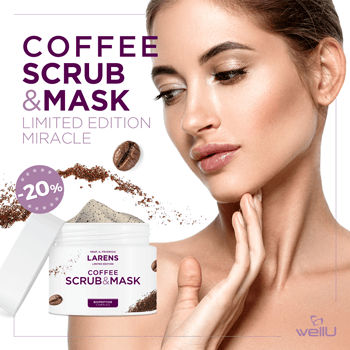 Hot premiere, straight from the Business Weekend! - Larens Coffee Scrub&Mask 20% cheaper!
The promo will last only until the Tuesday, 2.10, 11:59PM or while the stock lasts!
There is a plenty of reasons why Larens cosmeceuticals have found a wide crowd of fans. When listing those, one can never miss: multifunctionality, a wide spectrum of applications and the richness of precious active ingredients.
Keeping to those values, Larens has come to you with a unique cosmeceutical, which opens a new chapter in a slimming care for face and body. A true exfoliating and slimming ritual, a perfect combination of a scrub and mask, tradition and modern science. Coffee grains known for generations for their slimming and firming properties meet a "high-tech" liporeductyl containing the composition of the most effective anti-cellulite ingredients.
Regularly applied, Larens Coffee Scrub&Mask corrects the face's oval, helps to combat a double chin, reduces swelling and spider veins. It assures slim, smooth and firm thighs and buttocks.
Don't wait up, find out for yourself how effective this product can be. No point waiting – this cosmeceutical is only available in a limited edition. And right now, just after its premiere, you can buy it with a 20%* discount!
*20% of the price and point value
Catch the coffee vibe together with the offer, it's valid while the stock lasts or until cancelled.
Return to list