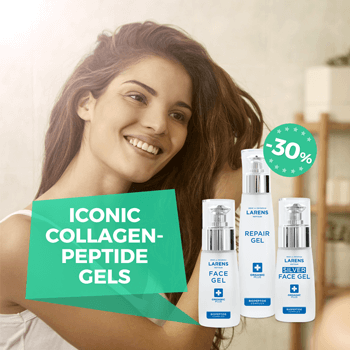 Get the iconic collagen-peptide gels cheaper by 30%!
Collagen-peptide gels are unique on the market. The high concentration of bioactive fish collagen peptides, collagen and other active substances in Biopeptide Complex brings a multitude of beneficial effects to the skin, making these formulas a must-have, the basis of your skin care with Larens.
Now you can get them 30% cheaper!
• Face Gel 30 ml
- a peptide gel for face, neck and chest with strong lifting and anti-wrinkle properties. Selected ingredients stimulate the regeneration of natural collagen, they nourish and soothe irritations, reducing the visible signs of aging. Just after the first application, the skin regains the right level of moisture, becomes smoothed and elastic.
• Silver Face Gel 30 ml
- a collagen-peptide face gel containing high concentrations of active ingredients, including colloidal silver and silicon - substances that specifically respond to the needs of sensitive and problematic skin, e.g. with acne.
• Repair Gel 100 ml
- peptide body, hair and nail gel, based on a unique formula. A multifunction cosmeceutical extremely rich in bioactive substances, including a complex of several hundred natural, biological active peptides, derived from selected species of freshwater fish, collagen, biotin and vitamin C.
Do not hesitate and take advantage of this unique offer today! Promotion valid until further notice! For more information about our products visit our website www.wellu.eu.
• Make a purchase for 100 points or more and get Serum Hair & Body Repair Spray 250 ml for 1 cent! >>>> check our
SPECIAL OFFER tab
Return to list